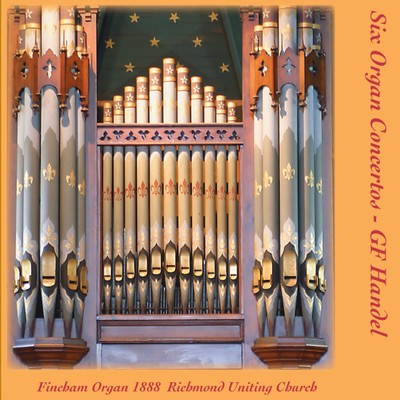 Six Organ Concertos - G. F. Handel
These ever popular concertos by Handel are presented in Handel's own arrangements for organ only. Heard here on the historic George Fincham organ in the Richmond Uniting Church.

On 27th September 1738, John Walsh announced "To all Lovers of Musick" in the Daily Post:
"Whereas there is a spurious and incorrect Edition of Six Concerto's of Mr. Handel's for the Harpsichord and Organ, publish'd without the Knowledge or Consent of the Author, This is to give Notice, (That the Publick may not be imposed on with a mangled Edition) That there are now printing from Mr. Handel's original Manuscript, and corrected by himself, the same Six Concerto's which will be published in a few Days. Price 3s."
Handel himself warned against the pirate edition in the Daily Post in October, and subsequently on the title page of all subsequent editions. The title page of the keyboard part promised orchestral parts 'in a few days' but these did not appear till the end of 1738.
This gorgeous recording is the first of this version of the Opus 4 Concertos and is beautifully made Ð sound and performances have received the highest acclaim. The 1888 Fincham instrument is a small organ and admirably suited to the music. Its clear, bright sounds are perfect for this performance, relying on the instrument's clarity of articulation and texture.
The music is highly dramatic in style showing Handel's genius as a dramatic composer and his skill in strict counterpoint. Much of the music is known in other forms, instrumentation and contexts Ð HŠndel never being one to recycle his best music Ð and this collection includes some of his finest!
Artists

Andrew studied at Melbourne University where he gained a Master of Music degree. He won numerous prizes during his university degrees and continued his organ studies in England and in France with Jean Langlais.

Organbuilder (1828-1910). Born in the UK in 1828 George Fincham moved to Melbourne in the 1850s. He is considered to be the father of the Australian organ building industry. The firm he started was still in operation until the late 1990s.
Press quote
"Andrew Blackburn's playing and readings are splendid, always penetrating to the heart of the music, with clean articulation, rhythmic accuracy and judicious use of the pedals."
— 3MBS FM Libretto, June-July 2006
Audio preview
Track Listing
Concerto 1 in G minor
1. Largo
2. Allegro
3. Adagio
4. Andante
Concerto 2 in B flat Major
5. A tempo ordinario
6. Allegro
7. Adagio
8. Allegro ma non presto
Concerto 3 in G minor
9. Adagio
10. Allegro
11. Adagio
12. Gavotte
Concerto 4 in F Major
13. Allegro
14. Andante
15. Adagio
16. Allegro
Concerto 5 in F Major
17. Larghetto
18. Allegro
19. Alla siciliana
20. Presto
Concerto 6 in B flat Major
21. Andante Allegro
22. Larghetto
23. Allegro Moderato
Where to buy
Six Organ Concertos - G. F. Handel is available as as CD. It can be purchased online through Buywell Music or the Australian Music Centre which both offer secure online ordering.
Move CDs can be ordered through music retailers across Australia including Readings.
Product details