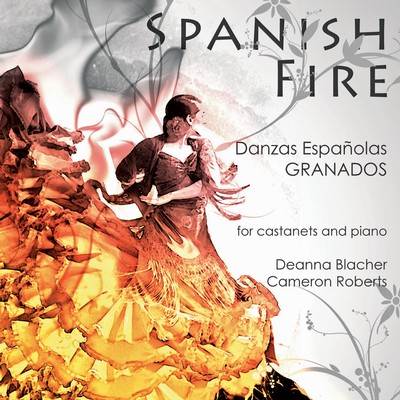 Spanish Fire - Danzas Españolas
Two of Australia's most eminent interpreters of Spanish music, Deanna Blacher (castanets) and Cameron Roberts (piano), join forces in this spectacular duo arrangement of the 12 Danzas Españolas by Granados.
The set (originally for solo piano) are among Granados' most popular and best-loved works (including No.4, Villanesca, and No.5, Andaluza), and fuse earthy dance with European salon charm. Here, the version for piano and castanets highlights the rhythmic energy of the dance whilst providing a nostalgic coloration to its more intimate moments.
Artists

Deanna Blacher, trained in the exacting discipline of the Spanish dance, has worked internationally as dancer and choreographer. She has also carved a remarkable niche as castanets virtuosa.

In recent years Cameron Roberts has enjoyed growing success as one of Australia's finest young artists. He has already performed in Australia, Europe, Asia, and the USA, as soloist and chamber musician, and maintains a diverse range of interests which include jazz, contemporary music and composition.
Press quotes
"To hear Blacher interpret the melody and occasionally accompaniment in that main part, whether in the lively outer sections of dances such as the opening Galante and the Fandango, Andaluza and Romantica or the more reflective middle sections of the same, as Roberts played the piano originals, was a revelation […] Cameron's vital, exuberant pianism was simply electrifying"
— Review of a live performance, West Australian Newspaper
"an explosion of emotive sound… an incomparably sensitive pianoforte partnership… two artists of supreme talent left and indelible mark and set a new standard in this medium."
— Review of a live performance, OZartsreview
Track Listing
Performers
Composer

Born in Lerida in 1867, Enrique Granados studied the piano and composition in Barcelona and then in Paris, returning to Barcelona in 1889. He won distinction as a pianist and popularity in Spain with his contributions to the form of zarzuela.
Where to buy
Spanish Fire - Danzas Españolas is available as as CD. It can be purchased online through Buywell Music or the Australian Music Centre which both offer secure online ordering.
Move CDs can be ordered through music retailers across Australia including Readings.
Product details
List price

$25.00 AUD

Release date

August 2011

Copyright

© 2011 Move Records

Phonogram

℗ 2011 Move Records

Category

Catalogue number

MCD 453

Barcode

EAN 9314574045321