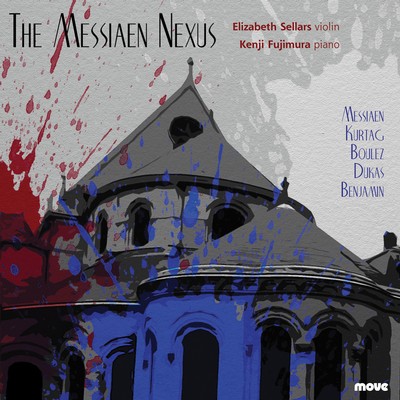 The Messiaen Nexus
This unique disc presents an extraordinary insight into the intellectual and creative talent that arose from a particularly fertile period in the history of the Paris Conservatoire. Centred around legendary composer Oliver Messiaen, this eclectic mix of works for violin and piano highlights the influence of Messiaen on his students György Kurtág, George Benjamin and Pierre Boulez and also considers the influence on Messiaen by his teacher, Paul Dukas.
Artists
Australian-born violinist Elizabeth Sellars, is a graduate of the Guildhall School of Music in London where she studied with David Takeno (violin) and the Takacs String Quartet (chamber music).

Dr Kenji Fujimura (piano) is a multi- award-winning pianist and composer, with many broadcasts on ABC-FM/TV, MBS-FM, BBC Radio3 and Bravo!Canada to his credit. Concert, masterclass, and adjudication engagements have taken Kenji throughout Europe, North America, Asia and Australasia.
Press quotes
"This disc should be praised as much for thoughtful programming as for musicianship.
Sellars and Fujimura focus on chamber works for violin and piano deriving their inspiration from the Paris Conservatoire under Messiaen's period of tutelage." ★★★★
— Brett Allen-Bayes, Limelight
"Sellars and Fujimura have created a most entrancing and expressive rendition of these technically advanced and challenging works for violin and piano. Even though Messiaen is only represented in two of the 14 tracks, the title of the disc refers to his relationship and influence on the other composers in the period of the Paris Conservatoire - as a teacher of pupil. Benjamin, Dukas, Kurtág and Boulez's works are modern yet differ vastly in their style. The pieces selected comprise works for solo violin in their style, The pieces selected comprise works for solo violin as well as violin pieces accompanied by piano. The virtuosity of these accomplished performers is displayed as well as their ensemble skills. Each work draws the listener in on an emotional journey although the sounds are at first new and foreign. Through their intellectualism and stylistic mastery, these eclectic works are very satisfying to listen to, and music which one would want to hear again."
— Sharon Lierse, AUSTA Magazine (Stringendo)
Audio previews
Track Listing
Performers
Composers

Olivier Messiaen (1908–1992) was a French composer, organist and ornithologist, one of the major composers of the 20th century. His music is rhythmically complex (he was interested in rhythms from ancient Greek and from Hindu sources); harmonically and melodically it is based on modes of limited transposition, which he abstracted from his early compositions and improvisations.
Where to buy
The Messiaen Nexus is available for download from the iTunes Music Store.
It's available for streaming through Apple Music.
The Messiaen Nexus is available as as CD. It can be purchased online through Buywell Music or the Australian Music Centre which both offer secure online ordering.
Move CDs can be ordered through music retailers across Australia including Readings.
Product details
List price

$25.00 AUD

Total playing time

62 minutes 48 seconds

Release date

2013

Copyright

© 2013 Move Records

Phonogram

℗ 2013 Move Records

Category

Catalogue number

MD 3369

Barcode

EAN 9314574336924