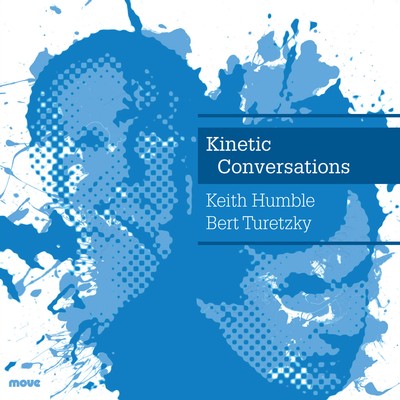 Kinetic Conversations
This CD is a collection of some of the most extraordinary musical improvisations ever recorded. Composer, pianist, champion of new music, Keith Humble, and amazing American double bass player Bertram Turetzky recorded this set in 1986.
The reputations of Keith Humble and Bert Turetzky go way beyond their status as virtuosos.
We hear two artists with uncommon empathy for one another, who invariably injected high energy and spirit into their music-making. Their spontaneity and sense of form and space makes this music timeless. It is no wonder that among their many other activities in music over many years both gained international reputations as pioneers of new music.
Artists

In 1977, Keith Humble won the National Critics Award as the most outstanding recitalist working in Australia and he was awarded the Order of Australia (AM) for his services to music in 1982. He was a constant champion of Australian contemporary music and Percy Grainger.

Bertram Turetzky (b. 14 February 1933) is a contemporary American double bass (contrabass) soloist, teacher, and author of The Contemporary Contrabass (1974, 1989), a book that looked at a number of new and interesting ways of playing the double bass including featuring it as a solo performance vehicle with no other instrumental accompaniment.
Track Listing
Performers
Where to buy
Kinetic Conversations can be purchased online through Buywell Just Classical or the Australian Music Centre which both offer secure online ordering.
This title is also available in (or can be ordered through) many fine music retailers across Australia, including Thomas', Discurio and Readings.
Product details