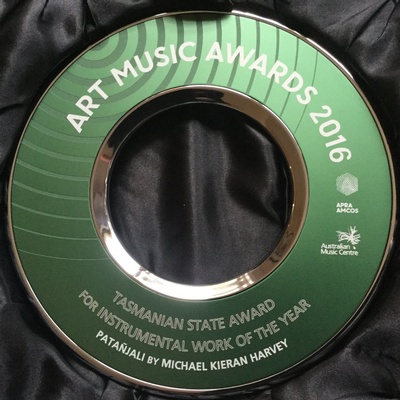 19 August 2016
Art music awards 2016
Michael Kieran Harvey has won the Tasmanian State Award in the "instrumental work of the year" category. "Patañjali" is composed for two keyboards and percussion, a cross-fertilisation of literature, music and yoga across different times and cultures.
"Patañjali" is the first Western art music composition based entirely on the structure and syntax of a Sanskrit text: Panañjali's 2000-year-old Yoga-Sütra. The musical language is exciting and unique, honouring and extending both Indian classical and Western musical forms.
The work is available on a special two-disc set, with the music (5 movements) on CD, and a full performance video on DVD, all for the price of one CD.
Further reading

Michael Kieran Harvey is one of the foremost interpreters of contemporary piano music of his generation. A champion of Australian music and himself a composer, he regularly commissions new Australian music and has performed with Australia's leading contemporary music ensembles and orchestras.

This music CD and performance DVD is a celebration of Patañjali's Yoga-Sūtra in music and āsana (2015) composed by Michael Kieran Harvey who also plays various keyboards, Arabella Teniswood Harvey (piano) and Eugene Ughetti (percussion).