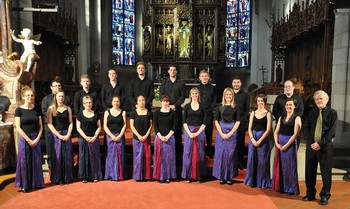 Australian Chamber Choir
The Australian Chamber Choir was founded by Douglas Lawrence in July 2007.
During its first five years, the choir undertook three concert tours of Europe and three Australian national tours. Those tours included 48 engagements in established concert series and festivals in Germany, France, Denmark and Poland. In 2011, the ACC gave the opening concert of the Bach Organ Festival in the church where JS Bach was Cantor for 27 years, St Thomas, Leipzig, followed by a Sunday morning Motet service.

The choir has received high praise for its performances of Bach from audiences and critics alike. The choir's 2013 European concert tour includes several return invitations, Leipzig among them: they perform in Berlin and Hamburg, in the cathedrals of Meissen, Freiberg and Ribe, and at five festivals in Denmark and Poland.

In addition to performing historical masterworks, the choir is committed to performance of new work by Australian composers, which are included in most of its concert programs.
Press quotes
"Conductor Douglas Lawrence has created an ensemble that sings with utmost precision and utmost sensitivity, possessing a perfectly balanced choral sound."
— , Schwäbischer Zeitung, Ravensburg
"… phenomenal: flawless intonation, superb uniformity, perfect tonal balance, astounding dynamic range and sleek voice-leading."
— Guido Krawinkel, General-Anzeiger, Bonn
Australian Chamber Choir is featured on the following titles

Performer: Choir
The Australian Chamber Choir performs motets by J.S. Bach and two of his sons, Johann Micheal Bach and Joahnn Christoph Bach.

Performer
Douglas Lawrence OAM conducts the internationally acclaimed Australian Chamber Choir in a selection of sublime sacred music from across the ages.
Members of Australian Chamber Choir

Melbourne organist Douglas Lawrence is Director of Music at The Scots' Church and Teacher of the Organ at the University of Melbourne and was the founding director of Choir of Ormond College, a position he held from 1982 to 2006.