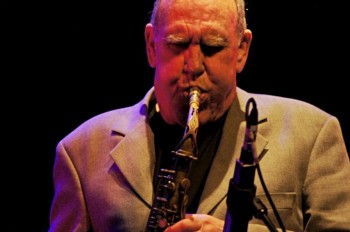 Bernie McGann
Born in 1937, alto saxophonist Bernie McGann grew up in Sydney and played drums as a teenager. He picked up the saxophone relatively late, at the age of 18. From early gigs with a jazz trio in a Sydney club in the 1950s, McGann gradually progressed to become a highly respected figure in the Australian jazz community.
He was admired for his unique saxophone sound - frequently described as 'dry', 'dark', and 'gravelly' - as well as his originality as improviser and composer. He was controversial, with one club owner refusing to have him work in his club. He developed a sound reminiscent, but not influenced by, Ornette Coleman. His playing has remained rooted in traditional bop, as well as integrating elements of his native land's folk music.
McGann and his cohorts gained greater visibility in America in the late '80s and '90s with the release of various recordings.
A multiple ARIA Award winner, McGann received the Australia Council Don Banks Music Award in 1998. He continued his performing career until the very end, playing in his own Bernie McGann Trio and Bernie McGann Quartet (McGann, Warwick Alder, Brendan Clarke, Andrew Dickeson), as well as with other Australian and international musicians.
Bernie McGann died on 17 September 2013 at the age of 76 from complications after heart surgery.
Bernie McGann is featured on the following titles

Two of the most prized possessions in my collection of albums, CDs and cassettes are recorded performances of the late great saxophonist, Bernie McGann.
Performer: Alto Saxophone
Composer