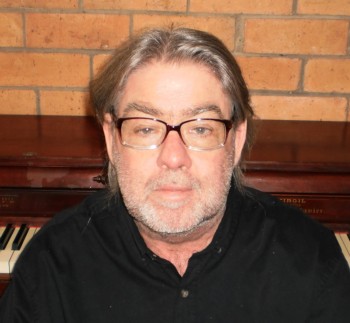 Bill Canty
Australian born Bill Canty has spent many years in Melbourne and is currently living in nearby Geelong were he grew up. Bill has extensive experience collaborating with a variety of musical organisations.
At the age of nine he started learning music from books and by working things out for himself. First there was guitar, then, with the help of kind neighbours with a neglected instrument, piano. By the age of eleven he was the local church organist and then followed a more typical path with piano and flute lessons, bands, youth orchestra, and so on.
In 1979 he began B.Mus.(Hons) and B.A. courses at the University of Melbourne, including piano at the Conservatorium of Music with Mack Jost. Studies were interrupted in 1982 when he became the keyboard player for rock band Jo Jo Zep. This was followed by tours with Max Merritt & The Meteors then Skyhooks, with whom he appeared on the 1983 album 'Skyhooks - Live in the 80's'.
1982 turned out to be a strong indicator of Bill's future direction. It had brought the world's first MIDI synthesizers, his own first synthesizer (an Oberheim OB-Xa) and the opportunity to show aptitude for this new technology when securing his first major gig.
A wide variety of musical jobs followed: bands, duos, solo piano bar work, arrangements and recordings for clients, piano teaching, sequencer teaching, and so on, and in a wide variety of genres: pop/rock, folk, jazz, classical… whatever the job required.
Highlights have included: assistance and programming (and even web site creation) for award-winning Australian film composer Bruce Rowland, gigs with sixties pop star Normie Rowe, and playing synthesizers with the Australian Philharmonic Orchestra for the ballet 'Dracula' in 2000. An unusual job was the programming of polyphonic ringtones for Yamaha (Japan) and T-Mobile (Germany) for several years before the technology was replaced by mp3 files.
Most significant with regard to their effect on his skills and way of working were the fifteen or so years making the backing tracks for Newman Entertainment's comedy cabaret restaurants: Tikki and John's CrazyHouse, Dracula's Cabaret Restaurant and Newman's Cabaret. The music they required included… well, anything. Current and classic pop/rock (including big-production songs like Bohemian Rhapsody, Bat Out Of Hell, etc.), heavy metal, show tunes, big band jazz, etc. Much of it seemed completely unsuitable for computer and synthesizers, but the sensibility he brought to the task, rooted in his classical training and its constant push for improvement as well as his persistent resourcefulness, always pulled him through.
But it also prompted him to question the merits of the ability to emulate other instruments. Aside from budget and availability considerations wouldn't it be better to just use "the real thing"? Wouldn't it be better to reassign computer-controlled synthesizers to the exploration of new possibilities rather than to use them for copying? Answering 'yes' to that last question means that Bill's musical interests lie, currently and for the foreseeable future, in those explorations, both for recordings and for live performance.
Bill Canty is featured on the following titles

Performer: keyboard, Composer
"Shades of Ivory" is, in all likelihood, very different from any other piano album you've heard. Bill Canty is a highly accomplished Australian musician who has played in everything from orchestras to rock bands.