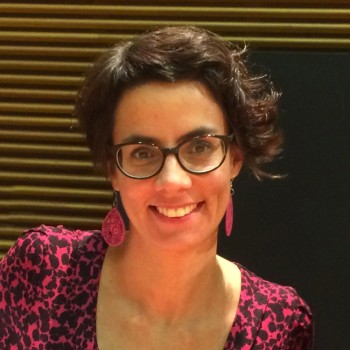 Claire Edwardes
Internationally acclaimed percussion soloist, chamber musician and artistic director of Ensemble Offspring, Claire Edwardes has been described by the press as a 'sorceress of percussion' performing with 'spellbinding intensity' and 'graceful virtuosity'.
Her award-winning performances combine a theatrical energy with charismatic and original interpretations bringing to life the varied array of music she performs. In 1999 Claire won the coveted ABC Symphony Australia Young Performers Award and in 2005 she was awarded the MCA/Freedman Fellowship for Classical Music. In 2016, 2012 and 2007 she won the AMC/APRA Art Music Award for Excellence by an Individual through her commitment to Australian music. In 2014 she was the recipient of a prestigious two year Australia Council Music Fellowship.
In 1997 Claire graduated from the Sydney Conservatorium of Music (BMUS Hon1) as Student of the Year, where her teachers were Daryl Pratt and Richard Miller. She was the recipient of the NUFFIC Huygens Dutch Government Scholarship and later the Queen Elizabeth Trust Award, which funded her studies abroad. During a successful period based in Europe (1999-2006), she undertook a Masters of Music with Richard Jansen at the Rotterdam Conservatory and then Peter Prommel and Jan Pustjens at the Amsterdam Conservatory. She participated in numerous summer schools including Acanthe Academy (France) with Steven Schick and the Darmstadt International Summer Courses (Germany). Whilst in Europe, Claire won first prize in the 2000 Tromp International Percussion Competition (The Netherlands), the 2001 Vriendenkrans Instrumental Competition (Concertgebouw, Amsterdam) and the 2001 Llangollen International Instrumentalist (Wales).
Claire later performed as soloist with the Amsterdam Sinfonietta, Radio Chamber Orchestra, Liverpool Philharmonic and Brabants Orkest and worked regularly with new music ensembles such as Slagwerk Den Haag, Asko Ensemble, Ictus Ensemble and Ensemble Modern. She presented regular solo recitals throughout Europe at venues such as the Concertgebouw (Amsterdam) and Queen Elizabeth Hall (London) and featured in major contemporary music festivals such as Huddersfield Contemporary Music Festival (UK), Donaueschingen (Germany) and Gaudeamus (Holland). During her time abroad she collaborated closely with highly regarded composers such as Michel van der Aa, Louis Andriessen, Steve Reich, Peter Eötvos, Harrison Birtwistle and James McMillan.
Claire returned to Sydney in 2006 and became the co-artistic director of the innovative new music group she was a founding member of in 1995, Ensemble Offspring. In 2015 the group turned 20 and in the same year Claire became sole artistic director. In 2016 Ensemble Offspring won the APRA Art Music Award for Excellence by an Organisation. Recent performance highlights include concerto's with the Melbourne, Sydney and Queensland Symphony Orchestra's, solo appearances at the Sydney Festival, MONA FOMA and 10 Days on the Island and collaborations with an array of artists from Mike Patton (Faith No More) to Guy Ben-Ary, the Australian Art Orchestra to the Australian String Quartet.
Claire's CD catalogue includes three solo albums with Tall Poppies (ONE, Flash and Coil), The Axe Manual (Harrison Birtwistle and Nicolas Hodges) on the Metronome Label and her Australian chamber release, Kammerbox on ABC Classics. As a composer she has written the music for the 2017 Vivid Sydney Maritime Museum animation and has several works in the new AMEB percussion syllabus. Claire is endorsed by Mike Balter Mallets and Adams Percussion. She teaches percussion and composition at the Sydney Conservatorium of Music as well as Australian National Academy of Music and maintains a busy concert schedule throughout Australia and abroad.
From the set of Play School to the mainstage at the Sydney Opera House, Claire Edwardes is 'the sorceress of percussion' (City News, Canberra). The only Australian to win the 'APRA Art Music Award for Excellence by an Individual' three times, Claire leaps between her role as Artistic Director of Ensemble Offspring and concerto performances with all of the Australian and New Zealand orchestras plus numerous European orchestras.

Add her genre-spanning solo concerts, teaching at the Sydney Conservatorium, a broad spectrum of collaborations, premiering hundreds of new works by composers including Harrison Birtwistle and Elena Kats-Chernin, to passionately advocating for gender equity in music and you begin to appreciate her astonishing energy.
Claire Edwardes is featured on the following titles
In 2020, Australian musician Claire Edwardes, described recently as 'the wonder woman of percussion' began a movement in her home country. Rhythms of Change is a project that addresses the parity of the representation of women in classical music and specifically in the rarefied world of solo percussion music.
Performer: Percussion

This is percussionist Claire Edwardes' fifth CD. Clairaudience is clear hearing, or the ability to perceive sound from outside sources, often in the spirit world. Psychics who are clairaudient hear voices, sounds or music that are not audible to the normal ear.
Performer: Percussion
Arranger
Claire Edwardes is a member of

Ensemble Offspring are Sydney's musical mavericks, uniting innovative Australian instrumentalists with a broad collective of collaborators to champion the music of tomorrow. Together we explore new ideas through living music that leaps across art form.