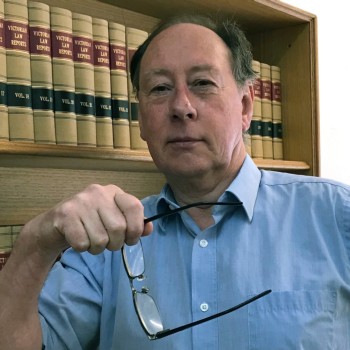 David Joseph
Born in Melbourne in 1954, David Joseph showed no early musical aptitude. Early childhood musical influences, however, came from Russian music - Peter and the Wolf by Prokofiev, the Red Army choir, Russian folk music and art. These influences remained all through life, and engendered a great love of Russian schools, especially Stravinsky, Borodin, Rachmaninov and the like.
After moving to Tasmania in 1970, David began studying the classical guitar. This brought him into contact with a broad repertoire, especially Spanish music, that caused a desire to create and arrange his own works. At the time, Ian Cugley was teaching and working in Hobart and at the suggestion of the guitar teacher, David approached Ian and began studying composition. The important aspects of this were that a real love of, and thirst for discovery of repertoire and the enjoyment of studying as many scores as possible became entrenched, as well as developing an ability to think in terms of orchestral music.
Orchestras and orchestral music have always held a particular fascination. At the time, Ian was principal percussionist with the TSO. This allowed some level of audience with the then Chief Conductor, Vanco Cavdarski, who permitted David's first work - an orchestral work - to be given a read-through by the orchestra. This was an invaluable experience. Whilst the work is (was) of no consequence aesthetically, or even musically, it demonstrated that a career in music was to ensue. Ian Cugley suggested that a course of study in Adelaide wit Richard Meale should be pursued. In 1975 David went to Adelaide and commenced work with Richard, enrolling at The University of Adelaide in 1976. Apart from a thorough induction into courses in musical analysis, studying recent scores, especially Boulez and Messiaen, the value of this course lay more with an introduction to thinking about music seriously and professionally and to develop a good working knowledge of the music studied. A particular benefit and influence resulted tom the introduction to the works of Debussy, Dukas and Messiaen; composers whose music has had a lasting influential effect.
Having completed studies at The University of Adelaide, David travelled to Spain in 1982 on an Australia Council Fellowship. The experience was immense and vital, and led to, among other things, the composition of the orchestral work Images, being a direct response to the Spanish experience. During the time in Adelaide, David formed a friendship and association with the then Director of the Adelaide Chamber Orchestra, John Russell and this led to the significant association with that orchestra's Artistic Director and Principal Conductor, the late Brenton Langbein. These relationships were fruitful, resulting in numerous commissions for AdCO and through Brentons's Swiss connections, commissions from a variety of Swiss ensembles, including work for the late conductor an philanthropist Dr. Paul Sacher, namely the The Haunting, being the final of a triptich of works for similarly small orchestral forces, The Dream being the first of this set and featured on Volume 1 of David Joseph Selected works. On returning to Melbourne in 1989 David was introduced by the then Director of the Melbourne Chamber Orchestra, Spiros Rantos, to pianist Michael Kieran Harvey. This friendship resulted in two piano concerti, as well as an elaborately conceived Rhapsody for solo piano.
In 1992 David enrolled at the University of Melbourne in the M.Mus program under the tutelage and supervision of Brenton Broadstock, whose support and friendship over the years has been substantial, close and rewarding. David received his M.Mus in 1996. This was followed by a period of composer-in-residence at The University of Melbourne and involved teaching orchestration and composition. Orchestration being one of David's passions, has been a subject he has taught at various universities and colleges.
Since 2006 David Joseph has been practicing as a lawyer in Regional Victoria. This is busy work comprising matters pertaining to all areas of Law and especially Litigation, Deceased Estates, Family Property, Land Law and Criminal law. David has written several learned articles on aspects of Criminal Law published in the Law Institute Journal. Musically, he is planning a new work for 2 pianos – Exciting! David also has been involved in property development. He also enjoys the many wonderful restaurants and local wines produced in North east Victoria.
Compositions by David Joseph appear on

17 years after the release to wide critical acclaim of David Joseph's album Selected Works Volume 2. Now, Works for String Orchestra presents previously un-released recordings gloriously remastered for this new album.
Composer

The second volume in this series features performances from the Melbourne Symphony Orchestra, The Academy of Melbourne, and pianist, Michael Kieran Harvey
Composer
David Joseph Selected Works Vol. is now available. It features performances by the Adelaide Symphony Orchestra, the Tasmanian Symphony Orchestra and the Adelaide Chamber Orchestra
Composer