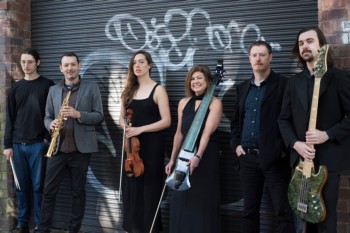 Elysian Fields
Elysian Fields, Australia's only electric viola da gamba ensemble, was formed by Jenny Eriksson, Matt Keegan and Matt McMahon in 2015. The band is an ongoing experiment in creating new improvised and composed repertoire for the electric viola da gamba – of which Eriksson is believed to be the only Australian exponent.
Jenny has performed and recorded with jazz and world music artists for many years. Prior to Elysian Fields, her collaborators included Llew and Mara Kiek and Steve Elphick from the Mara! band, horn player and composer, Paul Cutlan, Matt McMahon, Joseph Tawadros, Kevin Hunt and Matt Keegan as well as Susie Bishop and Emily Rose Sarkova from Chaika.
The back bone of Elysian Field's set list consists of original works written specifically for the line-up by Matt McMahon, Matt Keegan, Jenny Eriksson and bassist, Siebe Pogson. The band's covers range widely from Eriksson's unique arrangements of several songs by Marin Marais to charts and folk songs reflecting Jenny's Scandinavian heritage from the likes of Swedish jazz/fusion guitarist, Mats Norrefalk, e.s.t. and Norwegian pianist/composer, Jan Gunnar Hoff. Joe Zawinul also makes an occasional appearance!
Elysian Field's influences are as broad as its member's eclectic interests and include e.s.t., Herbie Hancock, Jaco Pastorius, Tord Gustavson, Victor Wooten, Mats Norrefalk, Jean-Luc Ponty, Weather Report, Mara!, traditional Indian music, Irish and Swedish folk song, Jordi Savall, Marin Marais, John McLauglin, Steve Hunter, Pat Metheny, Jan Gunnar Hoff and Joni Mitchell.
Artist's website: www.maraisproject.com.au
Elysian Fields is featured on the following titles

Elysian Fields is Australia's only electric viola da gamba band, heralding the creation of a new and unique musical voice. Elysian Fields is the brainchild of viola da gambist, Jenny Eriksson, and leading jazz musicians, Matt Keegan, saxophones, and Matt McMahon, piano.
Members of Elysian Fields
Jenny Eriksson completed her initial musical studies at the NSW State Conservatorium of Music studying music education and cello with Barbara Woolley. She subsequently studied the viola da gamba with Jaap ter Linden at the Rotterdam Conservatorium for three years where she completed post-graduate studies in baroque music.

Matt McMahon is a Sydney based pianist, keyboardist and composer. Having studied music and English literature at Sydney University and jazz studies at the Sydney Conservatorium of Music, he has been actively performing and recording music since 1993.