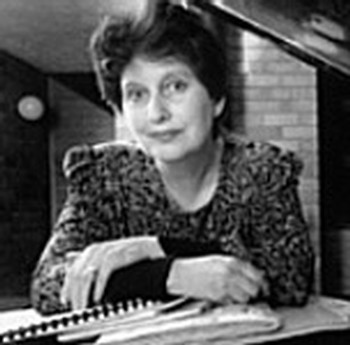 Mary Mageau
Composing in a large number of genres, Mary Mageau's catalogue includes works for symphony and string orchestra, chorus, ballet, theatre, solo instruments, various chamber ensembles and voice.
Mary is also the recipient of many international awards. These include: the Louis Moreau Gottschalk International Composer's Competition (silver medal), ASCAP Standard Awards granted annually since 1981 and a prize in the 1994 Alienor Harpsichord Concerto Competition for Composers. In 1990, her Triple Concerto was highly commended by the Vienna Modern Masters First Recording Award and was released in VMM's'Music From Six Continents' CD Series.
Compositions by Mary Mageau appear on
Composer
Elizabeth Anderson explores harpsichord music across four centuries: ranging from Conceição's raw 17th century battle piece, through traditional Baroque repertoire, to Jazz, Blues, Gershwin and the Beatles accompanied by drums and bass. Weird, wild, wacky and wonderful - you've never heard the harpsichord like this!

Composer
A valuable collection of Australian compositions for piano, by some of Australia's most respected and inventive composers and performed by pianist- composer, Larry Sitsky.