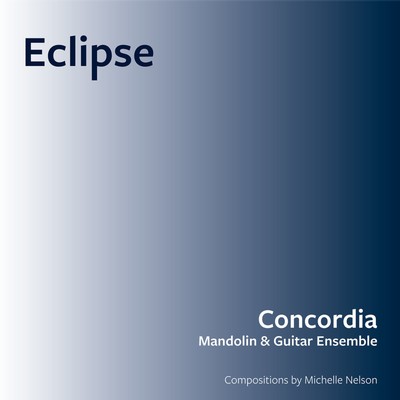 Eclipse
Originally intended for release in 2020, both this album and the Concordia Mandolin & Guitar Ensemble were indeed eclipsed the pandemic. Now, three years late, is Concordia's sixth CD.
All works are composed by Concordia member and guitarist Michelle Nelson. Bishops Spell was commissioned by Marion Blazé (née Bishop) in memory of her parents Ida and Frank Bishop, both keen musicians. The first two movements represent them individually with soloist Will Hardy [recorder] and Darryl Barron [mandola] on Ida and Franks' respective instruments, then the third movement represents the collaborative energy of the whole family.
Eclipse was first performed in 2015 at Malvern Town Hall to a large appreciative audience, this work was a central part of the Melbourne FAME Plucked Strings festival concert.
After The Fire is a new arrangement of the composer's After The Fire album 2012. It turns the introduction material into a longer, unique movement, named Incerat that leads to the gentle, entwining After The Fire melody that grows as the movement progresses.
Jim Greer's Jig was written in memory of a founding member of the ensemble, Jim Greer.
Artist

Formed in 1978, the Concordia comprises approximately 24 members playing mandolins, mandolas, guitars, mandocello, Double bass and piano accordion.
Track Listing
Performers
Composer

Michelle Nelson is a composer, guitarist and creative educator committed to developing instrumental works that are contemporary but also draw inspiration from traditional composition practice.
Where to buy
Eclipse is available for download from the iTunes Music Store.
It's available for streaming through Apple Music.
Eclipse is available as as CD. It can be purchased online through Buywell Music or the Australian Music Centre which both offer secure online ordering.
Move CDs can be ordered through music retailers across Australia including Readings.
Product details
List price

$25.00 AUD

Release date

April 2023

Copyright

© 2023 Concordia Mandolin and Guitar Ensemble

Phonogram

℗ 2023 Move Records

Categories

Catalogue number

MCD 612

Barcode

EAN 9314574061222