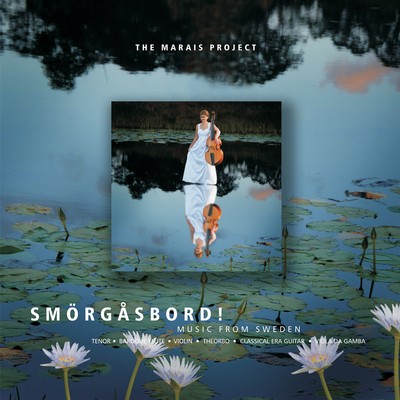 Smörgåsbord
Over its 15 year history The Marais Project has continuously pushed the boundaries of the viola da gamba repertoire whether in presenting the long neglected works of Marin Marais and his French baroque contemporaries or launching the electric viola da gamba in Australia.
With the release of their 5th CD, "Smörgåsbord" The Marais Project's 3-year musical exploration of lutenist Tommie Andersson and Director Jenny Eriksson's Swedish heritage comes to a stunning fruition. Every piece on this beautifully crafted CD is an Australian premiere. The repertoire spans from gorgeously arranged Swedish folk songs and toe tapping fiddle tunes to the wry humour of Carl Michael Bellman (often called the Swedish Schubert), a flute sonata by Swedish baroque master, Johan Helmich Roman, a trio sonata by Marais, a pavane by Swedish jazz super stars, e.s.t, and even a French baroque inspired version of an ABBA song!
The driving force behind this ground breaking recording, Jennifer Eriksson and Tommie Andersson, have been performing together in The Marais Project and many other ensembles for more than 25 years now. Alongside their shared musical loves, they also share a Swedish heritage. Tommie was born and grew up in Sweden, while Jenny's Swedish grandfather, Knut Axel Eriksson, arrived in Melbourne in the 1920s. He never returned to his homeland. If it was not for a relative from Stockholm who wrote each year to the Australian branch of the Eriksson family, they would have completely lost contact with their Scandinavian forebears.
After many years of discussion, late in 2011 they finally decided to schedule a Swedish concert as part of The Marais Project's 2012 concert series. Eriksson found it quite emotional at times getting to know the works of Roman and Bellman and some of Sweden's beautiful folk and other music through the unique lens of period instruments. This repertoire has never been presented in Australia in this format. Although not a comprehensive historical overview of Swedish music it offers a rare glimpse into a musical world virtually unknown outside Scandinavia.
Eriksson and Andersson have assembled a veritable who's who of Australian period music in bringing together performers of the quality of Melissa Farrow, baroque flute, Fiona Ziegler, baroque violin and Pascal Herington, tenor. Herington deserves special mention for tackling the challenges of Swedish pronunciation as does Tommie Andersson who reveals himself as an arranger of great imagination and sensitivity.
Why an Australian CD of Swedish music? Why not? Art does not have to be sensible. All worthwhile music is a labour of love. Smörgåsbord! is about exploring the contrasts in history, language and culture between Sweden and Australia. It is also about the many life and musical stories that bring people together — even though our respective homelands straddle the deep north and far south of the globe.
Music spans the distance.
Artist

If you love interesting, out of the way music and relaxed, concert settings you will love The Marais Project! Jennifer Eriksson originally founded the group in 2000 to perform the complete works of Marin Marais an 18th century genius of my instrument, the viola da gamba. Over the years our repertoire has greatly expanded and now includes a huge range of wonderful vocal and instrumental music for the viola da gamba from the 1300s to the present day. They also commission and arrange new music for the ensemble.
Press quotes
"SMÖRGÅSBORD! Is an accessible and wide-ranging treat. At all times it remains an expressive and educational aural event. Its packaging includes informative notes and clear translations, with attractive and appropriate photography for the musical atmospheres and material covered.
The longest movement or track is just short of five minutes, giving the recording good momentum. Some of the disc's well-chosen and dynamically delivered music will instantly repeat in your head, or make you crave a repeat listening. New favourite works and arrangements abound here for us."
— Paul Nolan, Sydney Arts Guide
"Smörgåsbord is addictive
The Marais Project, directed by Jenny Eriksson, recently released a new CD that you wont be able to stop listening to once you play it. I have a couple of friends who have it on permanent replay in their car or at home and I'm pretty addicted to it myself!
A rich heritage of Swedish Baroque music
Jenny Eriksson, an Australian of Swedish heritage, teamed up with Tommie Andersson, a fellow Swede who migrated here as a young adult, to produce a CD of Swedish music (with a little Marais thrown in for good measure). Who knew there was such a rich heritage of Swedish Baroque music! Swedish composers, Johan Roman and Carl Bellman (both 18th Century), complemented by 20th Century composer and jazz pianist Esbjorn Svensson, probably don't feature in your current CD collection. Roman moved in the same circles as Handel, Bononcini, and Geminiani for a time, and was a prolific composer. Bellman was a national poet who wrote wonderful songs about earthy subjects (basically, wine, women and song) as well as the sublime (God reigns and all is well with the world). Each of the 24 tracks on the CD, most of them arranged by Andersson, is an Australian premiere and I have to wonder how much of this body of work has been recorded on baroque instruments outside of Sweden.
The Smogasbord musicians are an outstanding group of talented and experienced baroque specialists – Jenny on viol da gamba, Tommie on theorbo and classical guitar, Melissa Farrow on baroque flute, and Fiona Ziegler on baroque violin. Pascal Herington, a fine young tenor currently studying in Germany, provides vocals."
Read full review
— Marguerite Foxon, Classikon website
"There is some very charming music on this new CD from the Australian early-music group, The Marais Project - Jenny Eriksson (viol da gamba), Tommie Andersson (theory/guitar), Melissa Farrow (flute), Fiona Ziegler (violin), and Pascal Herington (voice). All of the music comes from Sweden which links with the cultural heritage of two of the ensemble members. Apart from the elegant Suit No. 2 in G minor (a trio sonata) by Marais (1692), all other works on the recording have been skilfully arranged by Anderson. Particularly beautiful are the arrangements of traditional Swedish folk music and songs. The modal melancholy become even more haunting through the occasional use of tempered notes. Throughout the CD, Ziegle's violin playing is imaginative and full of character, while the viol and theory continuo is always supportive. The four songs by Carl Michael Mellman (1740-95), Sweden's national poet are very moving. The voice of tenor Pascal Herington is colourful and expressive, and adds a pleasing tonal variety to the homogenous sound of the instrumental ensemble. The final piece Courante La Waterloo, is a slute to Swedish music of more recent times. This is a well-presented and recorded CD. The balance between instruments and sound quality is excellent and the accompanying booklet is attractive and informative."
— Catherine Milligan, AUSTA Magazine
Audio previews
Track Listing
Composers
Where to buy
Smörgåsbord can be purchased online through Buywell Music or the Australian Music Centre which both offer secure online ordering.
This title can be ordered through fine music retailers across Australia including Readings and Fish Fine Music.
Product details
List price

$25.00 AUD

Total playing time

67 minutes 41 seconds

Release date

February 2015

Copyright

© 2014 The Marais Project

Phonogram

℗ 2014 Move Records

Categories

Catalogue number

MCD 512

Barcode

EAN 9314574051223