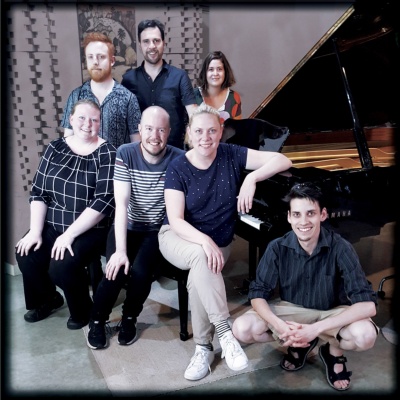 28 June 2018
A powerhouse of sound and vision
Step back in time to an era of unprecedented human innovation with the award-winning Syzygy Ensemble, and percussionist Dan Richardson. Sally Greenaway's The 7 Great Inventions of the Modern Industrial Age explores the astounding surge in human invention during the 20th century. And its consequences . . .
The recordings present the key musical movements from Greenaway's award-winning hour long dramatic musical of the same name, for which she won the prestigious APRA Art Music Award 2017 and The Canberra Critics Circle Award 2017.
The full production is an immersive and interactive story involving 6 musicans, an actor, archival audio, sound fx, lighting and set design featuring over 100 artefacts from the 20th century.
The CD is contained in a tri-fold digipak case, which conveys, through its photos and ornamental design, the look and feel of the show. There is also a nostalgic styled pull-out poster of the many inventions of the 20th century that shaped and changed our world.
A collectors must. This is truly a CD for those who appreciate great music and design!
More details on the CD page (just type "7 great inventions" into the search box above right).
Further reading

This masterful CD explores the astounding surge in human invention during the 20th century ... and its consequences. This is an award-winning dramatic musical work by Sally Greenaway featuring the Syzygy Ensemble.
Syzygy Ensemble has gained a reputation as one of Australia's finest new music ensembles, lauded for their virtuoso precision, innovative programming, and ability to connect viscerally with their audiences.

Award winning Canberra-based composer-pianist Sally Greenaway (b. 1984) works in a multiplicity of styles and genres, from orchestral film and concert works to jazz ensemble, big band, chamber and vocal music.