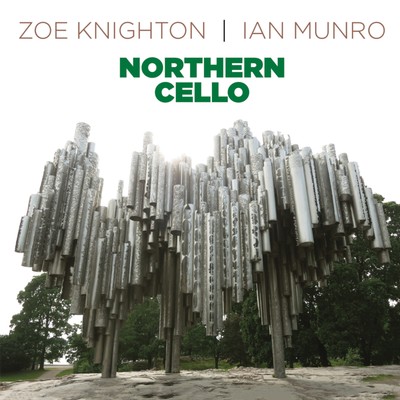 14 July 2017
Cello music with a Scandanavian twist
Zoe Knighton has released the latest in her series of cello discs. She is joined by acclaimed pianist Ian Munro for this latest disc, venturing into the wonderful sound worlds of Grieg, Pärt and Sibelius.
Zoe Knighton and Ian Munro have had a long association together as chamber musicians and here celebrate by collaborating on a unique combination of beautiful northern European melodies.
Using the the magnificently romantic Grieg sonata as their centrepiece, this CD presents a diverse program from the haunting beauty of Väsk's "Gramata Cellam" to the grand beauty of Grieg.
Described a musicians of 'color and flair' (Munro) with a 'thrilling tenor sound" (Knighton) this is a CD not to be missed.
Further reading

Music for cello from composers who lived and live in northern Europe. Zoe Knighton is joined by pianist Ian Munro on piano to present gorgeous gems from Edvard Grieg, Jean Sibelius, Peteris Vasks and Arvo Pärt.

Ian Munro has emerged over recent years as one of Australia's most distinguished and awarded musicians, with a career that has taken him to thirty countries in Europe, Asia, North America and Australasia.

Zoë is at the fore of a new generation of performer intent on forging an innovative path for the enjoyment of 'classical' music. She is a founding member of Flinders Quartet
Enter the world of Russia. Zoe Knighton and Amir Farid present a mix of unknown works alongside much loved classics. The recording celebrates a romanticism in composition inspired by the combination of cello and piano.

A charming collection of music from the rich French school of the late 19th century. The sonority of the cello and the beautiful clarity of the piano make this CD both easy to listen to, and moving. The two performers, Zoe Knighton (Cello) and Amir Farid (Piano) are masters of their art.

More than just Piazzolla, hear the tango as presented by 7 fantastic composers and performed by two of Australia's finest young musicians, Zoe Knighton (cello) and Amir Farid (piano).

Cellists often bemoan the lack of a cello concerto by Beethoven – and rightly so, but these eight works for cello and piano are the envy of many other instruments. The complete cello sonatas and variations of Beethoven are here on this two CD set.

Mendelssohn is often regarded as a composer who lived a charmed life and therefore whose compositions lack a certain integrity or depth of expression. The gloriousness of his music, its likeability and his creativity in celebrating humanity are certainly primary reasons for his music's longevity.