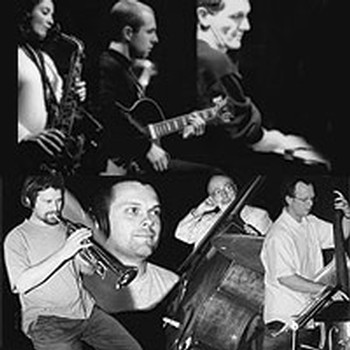 Baartz Freeman Sextet
Jazz sextets are rare, so you owe it to yourself to check out the Baartz Freeman Sextet, headed by co-composers Martha Baartz (saxophone) and Lliam Freeman (guitar). It's new, it's all original and it's Australian!
The Baartz Freeman Sextet began its life in 2000 when saxophonist Martha Baartz and guitarist Lliam Freeman decided to put together a group dedicated to the performance of their own original music. They had both spent many years playing together as members of other bands and musical projects but neither of them had ever worked on an original project of their own. After initially getting together to play, jam and write music they began working towards the performance and recording of their own original work.
The Baartz Freemen Sextet has played at various venues throughout Australia including Bennetts Lane and The Planet in Melbourne, Maggy Mores in Lismore NSW and The Holiday Inn and The Zoo in Brisbane. A mini Victorian tour to support the launch of their Move CD southeast included the Apollo Bay Music Festival in late March 2003, a CD launch at Bennetts Lane in Melbourne on the 1st April and the Mallacoota Music Festival in mid-April.
The Baartz Freeman Sextet's musical philosophy:
"We both have diverse musical backgrounds and the music that has evolved out of our collaborations reflects numerous musical influences from West Africa to New Orleans to Cuba to Brazil and New York. We are aiming to produce music that is open, generous and which allows for musical expression and improvisation by everyone in the band. The benefit of having two composers with very different but complementary writing styles also adds to the musical interest for band members.
We both believe in the cohesion and meaningful musical interactions of a band that plays regularly together and we have intentionally gathered musicians around us who respond to the music in similar ways to us."
(Martha Baartz and Lliam Freeman)
Baartz Freeman Sextet is featured on the following titles

southeast is the debut CD of the Baartz Freeman sextet and contains a diversity of jazz styles that combine numerous musical influences from West Africa to New Orleans to Cuba and New York.
Members of Baartz Freeman Sextet

Saxophonist Martha Baartz has an impressive musical history and is one of the rising female stars in the Australian Jazz scene. She has toured extensively in Europe and throughout Australia.
Lliam Freeman is a versatile Melbourne-based musician, guitarist, composer who has worked over many years with a diversity of artists and groups including Christine Sullivan, Sally Ford and The Pachuco Playboys, Skazz and WJAZ.

Steve Grant is an instrumental musician with over forty years performing experience, starting in the local community brass band and turning freelance professional aged 18.