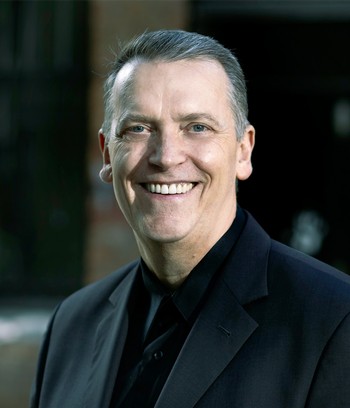 Photo: Keith Saunders © 2011
Carl Vine
Carl Vine first came to prominence in Australia as a composer of music for dance, with over 20 dance scores to his credit. His catalogue now includes six symphonies, six concertos, music for film, television and theatre, electronic music and numerous chamber works.
Although primarily a composer of modern 'classical' music he has undertaken tasks as diverse as arranging the Australian National Anthem and writing music for the Closing Ceremony of the 1996 Atlanta Olympics (the 'Sydney 2000' presentation).
Born in Perth, he studied piano with Stephen Dornan and composition with John Exton at the University of Western Australia. Moving to Sydney in 1975, he worked as a freelance pianist and composer with a great range of ensembles, theatre and dance companies over the following decades.
Amongst his most acclaimed scores are Mythologia (2000), Piano Sonata (1990) and Poppy (1978) for the Sydney Dance Company, Piano Sonata No 2 (1997) for Michael Kieran Harvey and Choral Symphony (No.6, 1996) for the West Australian Symphony Orchestra. Since 2000 Vine has been the Artistic Director of Musica Viva Australia, the largest chamber music entrepreneur in the world. His most recent compositions include Pipe Dreams for Emanuel Pahud and the Australian Chamber Orchestra, Cello Concerto for Steven Isserlis and the Sydney Symphony, and String Quartet No 4 for the Takács String Quartet.
Artist's website: www.carlvine.com
Press quotes
"... Vine is a major talent just waiting to be discovered here in the Old World. 'Radically tonal' (his phrase), the music is accessible but vital, richly coloured with a true, distinctive gift for melody, and somehow fresher than most current European writing."
— Michael White, The Independent on Sunday (UK)
"A formidably equipped musician with a passion for jazz and avant garde experimentation. Vine is clearly one of the most talented young composers working anywhere. His orchestral scores such as the compressed and brilliantly inventive MicroSymphony define and inhabit a unique musical world; his Piano Sonata of 1990 is one of the most significant works in the form since the great Piano Sonata of Elliott Carter."
— Jim Svejda, The Record Shelf Guide to Classical CDs & Audio cassettes, - 4th Edition
"A major talent ... someone capable of breaking genuinely new ground and getting things to grow in it."
— Tristram Cary, The Australian
Compositions by Carl Vine appear on