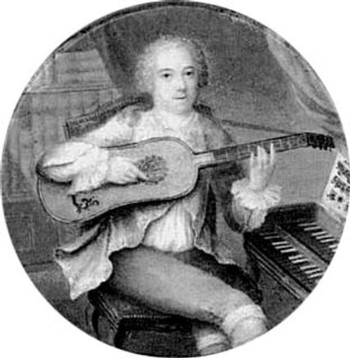 Claude Bénigne Balbastre
Claude Balbastre (December 8, 1724 – May 9, 1799) was a French composer, organist and harpsichordist. He was one of the most famous musicians of his time.
Balbastre's father, a church organist in Dijon, had 18 children from two marriages; Claude was the 16th. Three of his brothers were also named Claude. He received his first music lessons from his father, then became a pupil of Claude Rameau, the younger brother of Jean-Philippe Rameau, the most famous French musician at the time and also a native of Dijon.
During the French Revolution, Balbastre's connection with nobility and the royal court might have endangered his life, but adapted to the new politital situation, playing the Revolution hymns and songs on his organ. He did lose his official jobs and, temporarily, his pension. He died in Paris in 1799.
Compositions by Claude Bénigne Balbastre appear on