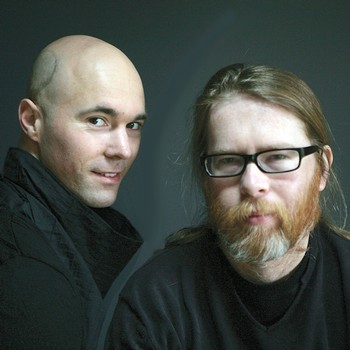 Duo 19
Two of Australia's most compelling virtuoso guitarists – Daniel McKay and Antony Field – join forces in Duo 19. Already much loved within Australia's guitar scene the duo are a riveting combo of on-stage energy.
Collaborating for many years on repertoire ranging from the romantic to the contemporary Duo 19 have a particular affinity for showcasing new and rarely performed works. Audiences have witnessed their dazzling and virtuosic performances at the Darwin and Adelaide International Guitar Festivals, Melbourne, Sydney and Canberra International Music Festival.
Following a string of highly successful performances throughout Australia Duo 19 are thrilled to present their debut CD for Move Records, featuring works by Bulgarian, Australian and American composers including Atanas Ourkouzounov, Nigel Westlake and Terry Riley.
Duo 19 is featured on the following titles

After nearly a decade of hanging out, talking shop and drinking coffee, two of Australia's most compelling virtuoso guitarists Daniel McKay and Antony Field formed Duo 19. This duo debut album presents an eclectic program including works by Australian composers, Nigel Westlake and Phillip Houghton.
Duo 19 also appears on

A retrospective compilation of some of the highlights of the music of the late Peter Sculthorpe. Many favourites are included.
Performer
Members of Duo 19

Antony Field as established himself as one of Australia's leading performers and teachers of the classical guitar. Upon completion of his studies at the Canberra School of Music, Antony was named 'Most Outstanding Graduate', and received numerous accolades early in his career.

Daniel McKay began his musical studies at an early age under the guidance of his parents, both of whom are practicing music teachers. Daniel was active as a multi-instrumentalist, performing within a myriad of popular styles.