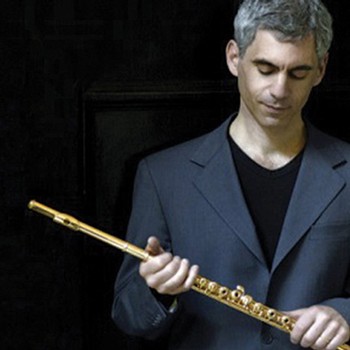 Gary Schocker
Flutist- composer- pianist Gary Schocker is an accomplished musician of outstanding versatility. He has composed sonatas and chamber music for most instruments of the orchestra.
He also has written several musicals, including Far From the Madding Crowd and The Awakening, which can be heard on original cast recordings. Both shows were winners of the Global Search for New Musicals in the UK and were performed in Cardiff and at the Edinburgh Festival, as well as in New Zealand. In New York, they were winners of the ASCAP music theatre awards. He has won numerous prizes including the National Flute Association's annual Newly Published Music award. www.garyschocker.com
Compositions by Gary Schocker appear on

Composer
Peter Sheridan's vision for this project was to bring the larger, lower sounding flutes to the centre stage, and in so doing, challenging their sound production and ability to create colourful sonic shapes in one of the most traditional Western musical forms: the Sonata.

Composer
This recording features the resonant and meditative sounds of the modern day low flutes. These austere, breathy and even creepy flute sounds should inspire an abundance of musical imaginations.

Composer
This charming and rare recording features predominantly commissioned chamber music for low flutes that was composed to showcase the lyrical and colourful tonal qualities of these instruments, expanding their small yet growing repertoire.