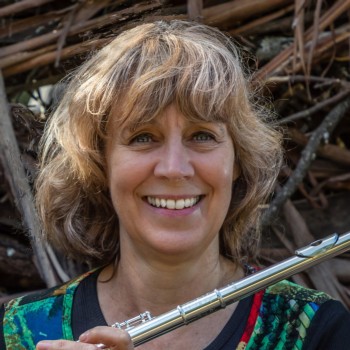 Johanna Selleck
Johanna Selleck is a composer, musicologist, and flautist. She holds a PhD from the University of Melbourne, where she is currently an honorary fellow. Her compositions have been performed by internationally renowned artists including in Australia, Europe, the USA, Japan, Hong Kong, Vietnam, Singapore, Malta, and Israel.
As a flautist she performs regularly as a soloist and in chamber music, particularly in collaboration with harpist Jacinta Dennett and at Melbourne Composers' League concerts. Johanna's research is published widely including by Cambridge Scholars Press and Lexington Books and in scholarly journals such as Australasian Music Research. Publishers of her music include Allans Music, Lyrebird Press, and the Australian Music Centre.
Her recordings appear on labels including Move Records, Tall Poppies, and Navona (USA). Johanna's composition Spindrift for solo harp appears on the CD Quest by American harpist Elisabeth Remy Johnson (Albany Records), which was listed on the 2022 Grammy Awards (under the producer, Elaine Martone, 'Producer of the Year, Classical'). Prizes for composition include the Percy Grainger Prize for Composition (1990), the Albert Maggs Composition Award (2006), and the ANZVS (viola society) Composition Competition (2022).
Johanna Selleck is featured on the following titles

Becoming is by composer Johanna Selleck and performed by Merlyn Quaife (soprano), Dean Sky-Lucas (countertenor), Jerzy Kozlowski (bass), Adam Simmons (shakuhachi), Lynette Rayner (violin), Zachary Johnston (violin), Barbara Hornung (viola), and Caerwen Martin (cello).
Performer: Conductor
Composer
Compositions by Johanna Selleck also appear on

The third release in this series from Derek Jones, Flute Perspectives 3 continues to convey the synergy of the fascinating and varied Australian classical flute repertoire, with new works Jones has commissioned, some of them being recorded for the for the first time on this album.
Composer

Recorded in Melba Hall, this world premiere recording finds Melbourne pianist Ian Holtham performing a brilliant cross-section of Australian contemporary piano works, including those by Brenton Broadstock, Linda Kouvaras, Stephen Ingham, Stuart Greenbaum, Johanna Selleck and Christine McCombe.
Composer

The breadth of this remarkable collection of solo harp music encompasses sixty-six years of original Australian composition, performed by Jacinta Dennett, featuring Australian women composers and showcasing the harp's unique sonic and expressive qualities as a solo instrument.
Composer
Johanna Selleck also appears on

This CD will be launched on 11 March 2017. It is a companion to the Australian composer's other Move CD "Exposé". It showcases solo pieces for cello and flute, electronic scores, and small ensemble pieces.
Performer: Flute

The definition of the word "chronicle" — put briefly "a record of events" — aptly fits the content of this recording. Chronicle forms an inspiring record of musical events in the life of Tony Gould, one of Australia's most creative musicians and composers.
Performer: Piccolo