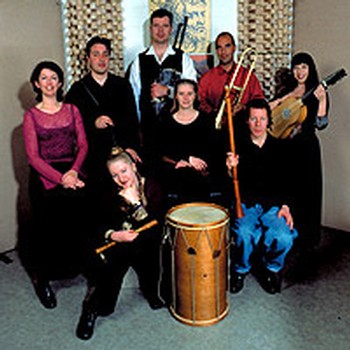 La Compañia
La Compañia, established in 1997, is dedicated to the music of the 16th century with a primary focus on loud winds and percussion, improvisation being a key element of the group's performance.
La Compañia's Melbourne debut received critical acclaim, and since then the group has been active in concert performances, festival appearances and the recording of the early music components for the English feature film Elizabeth.
Artist's website: www.lacompania.com.au
La Compañia is featured on the following titles

If you liked the period music used in the multi award-winning film ELIZABETH then you've already heard La Compañia perform ... but don't try to find them on the actual soundtrack album because you'll only find them here on this CD!
Members of La Compañia

Linda has been a core member of the Elysium Ensemble and has performed with such notable artists as Walter van Hauwe, Han Tol, Eva Legène and Stanely Ritchie. Her playing has been critically acclaimed for its sensitivity, insight and sense of style.

As well as being a member of WOOF! Christine also teaches at various high schools around Melbourne and is a member of the Renaissance wind and percussion ensemble.