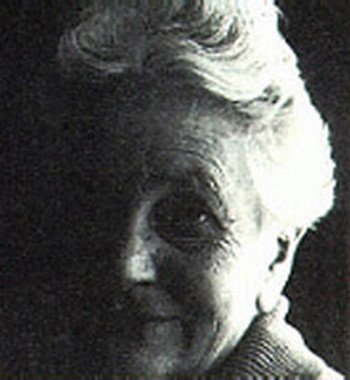 Margaret Sutherland
Margaret Sutherland (1897 – 1984) was an Australian composer, probably the best-known female composer her country has produced.
A student of Sir Arnold Bax in London during the 1920s, she wrote pieces in almost all forms, but particularly concentrated on the genre of chamber music. Her major works include a symphony, The Four Temperaments (orchestrated by Robert W. Hughes in 1964), concertos for various instruments (including violin), a symphonic poem entitled Haunted Hills (1953), and the chamber opera The Young Kabbarli (1964; libretto by Maie Casey).
One of Sutherland's most recognised pieces is 'In the Dim Counties' (1936) for voice and piano accompaniment from Five Songs. Sutherland sets her music to the poetry of John Shaw Neilson, considered a '"pastoral" lyric poet' from Australia whose verse has 'simplicity of form and restraint of utterance'. Sutherland captures this through simplistic rhythms, light instrumentation and 'even musical balance'. Five Songs has been recorded by numerous Australian female artists such as Helen Noonan.
Compositions by Margaret Sutherland appear on

Composed by George Dreyfus. An enjoyable collection featuring two of George Dreyfus' best known compositions, Rush and The Adventures of Sebastian the Fox.
Composer

Australian gems for violin and piano. Jewel showcases the work of some of our finest composers including Peter Sculthorpe, Margaret Sutherland, Don Banks and Vincent Plush.
Composer

'Worlds Apart' features works for piano duet, two and three pianos from both ends of the globe. Includes the first Australian recording of the Bruch 'Concerto for two pianos and orchestra'.
Composer