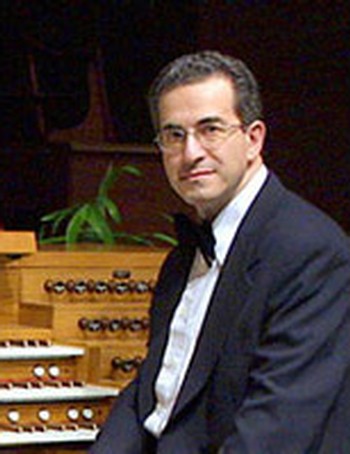 Naji Hakim
Composer and organist Naji Hakim is presently organist of la Trinite (directly succeeding the late Olivier Messiaen) and is currently professor at the National Regional Conservatory of Boulogne-Billancourt and visiting professor at the Royal Academy of Music in London.
Naji Hakim was a pupil of Jean Langlais and studied at the Conservatoire National Superieur de Musique de Paris, where he won first prizes in harmony, counterpoint, organ, improvisation, analysis and orchestration. He also received first prizes at the international organ competitions at Haarlem, Beauvis, Lyon, Nuremburg, Saint Albans, Strasbourg and Rennes.
Hakim was organist of the Basilica of the Sacre-Coeur in Paris from 1985 to 1993.
Artist's website: www.najihakim.com
Compositions by Naji Hakim appear on

One of Move's all-time best sellers! Sydney City organist Robert Ampt and Amy Johansen perform a program of popular organ duets on the famous Sydney Opera House organ.
Composer

Vibrant young Melbourne-based harpsichordist, Jacqueline Ogeil showcases the virtuosic, dramatic and passionate sides of the harpsichord.
Composer

Yoram Levy (trumpet) and Christopher Wrench (organ) join forces to explore the very diverse textures and styles of Genzmer, Tomasi, Persichetti, Durufle and Hakim.
Composer