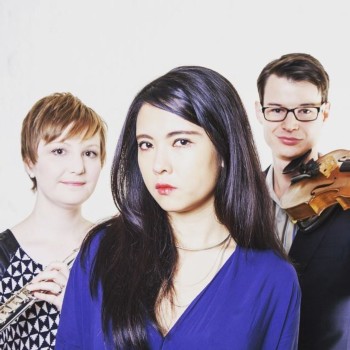 Nimbus Trio
Nimbus Trio was founded in 2013 by Kitty Xiao and Jessica Laird. The trio advocates and performs new music, including that of composer Kitty Xiao; and have commissioned new works by Australian composers as well as U.S composers.
The members of Nimbus Trio are Jessica Laird (flute, alto flute, bass flute), Cameron Jamieson (violin) and Kitty Xiao (composer/piano).
Nimbus Trio made their debut at Deakin Edge in Federation Square and the performance was broadcasted live on 3MBS. They have performed at various venues in Melbourne and were featured on 3MBS' The Talent. 'Nimbus', 'Nipper' and 'Novum' were composed drawing inspiration from the work of Australian photographers Narelle Autio and Jane Brown. The three pieces were recently named as finalists in the Areon International Composition Competition. Nimbus have recently recorded their first studio album Novum.
Nimbus Trio is featured on the following titles

The Nimbus Trio (piano, violin and flute) plays works by Kitty Xiao.
Members of Nimbus Trio

Kitty is an Australian composer, pianist, and collaborative artist. Kitty is founder, composer and pianist of Nimbus Trio. Kitty has released her first album Novum with Nimbus Trio as a represented artist of Move Records label. In 2017 Kitty formed the Six Piano Collective and is Artistic Director of the Six Piano Project.

Jessica Laird completed her Bachelor of Music (Honours) at the Melbourne Conservatorium in 2011. Under the guidance of Peter Sheridan, she has been the first flutist from the Melbourne Conservatorium to complete an Honours specialising on the Alto Flute. In 2013, she finished her Masters of Music (Performance Teaching) where she specialised on Alto flute under the tuition of Mardi McSullea.

After completing his Bachelor of Music - Advanced Performance Violin - at the Queensland Conservatorium, Cameron moved to Melbourne to further his studies at the National Academy of Music.