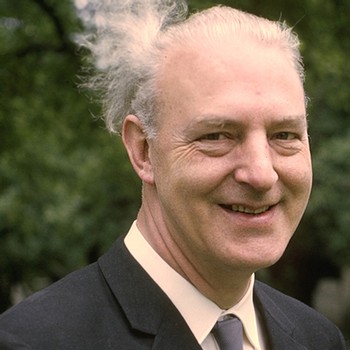 Sydney Carter
Sydney Carter (1915-2004) was an English poet, folk singer and poet. He has been described as a hymn-writer on the strength of his song "Lord of the Dance".
Unlike most song makers he composed on the voice, the body and the tape recorder rather than on the piano or guitar. Often unaccompanied, or backed by guitar, flute or drum he sang, recited, or performed to almost any kind of audience, the unlikelier the better. Prisons, churches, or the Albert Hall. He was seen on British television in a series of programs called Hallelujah where the aim was to bring Christian and non-Christian face to face. The songs raise questions about love, time, politics and religion.
Carter wrote revue material for Donald Swann (of Flanders and Swann fame) in the 1950s. Later in the 1960s Swann introduced some of Carter's songs to the world on two records: "Songs of faith and doubt" and "Sing round the year". Many folk and protest singers sang his songs.
Sydney Carter started his working life as a schoolmaster, worked with the Friends Ambulance Unit in Greece, also worked as a music critic for Gramophone magazine. His poems and songs are published by Stainer and Bell in a variety of publications. http://www.stainer.co.uk/carter.html
Sydney Carter is featured on the following titles

Performer, Composer, Songwriter
Poet and songwriter Sydney Carter visited Australia in 1972. He gave concerts and workshops all over the country, and this recording captures one of those events in full.

Performer, Composer, Songwriter
A selection of songs and poems by Sydney Carter performed by a variety of singers including Sheila Hancock and Jeremy Taylor, and featuring Sydney Carter himself.
Compositions by Sydney Carter also appear on