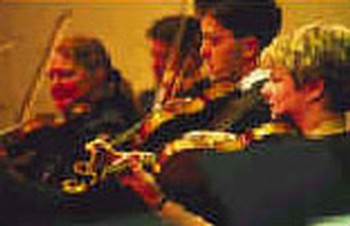 Tasmanian Symphony Orchestra
The Tasmanian Symphony Orchestra has an enviable reputation as one of the world's great small orchestras. It has a full-time playing strength of 47 musicians, which can be augmented for specific programming purposes.
Swedish conductor Ola Rudner has recently been appointed (March 2001) as Principal Conductor and Advisor.
The Orchestra presents over 80 concerts annually in its subscription series, specials series, education program, and free outdoor events such as Symphony under the Stars. Its core repertoire is that of the classical period which it plays with stylistic flair. The TSO is also recognised for its championing of contemporary music and in the last few years has premiered many new Australian works as well as giving first Australian performances of important European works. The Orchestra also enjoys great success playing a range of jazz and popular music with such artists as Don Burrows and his Quartet, Julian Lee, and Wendy Matthews.

Tasmanian Symphony Orchestra is featured on the following titles

David Joseph Selected Works Vol. is now available. It features performances by the Adelaide Symphony Orchestra, the Tasmanian Symphony Orchestra and the Adelaide Chamber Orchestra
Performer

Australian history in a tuneful, dramatic cantata by Don Kay, depicting the short history of the demise of the full-blood Tasmanian Aboriginal race and the early convict days. Includes The Song of the Maypole.
Performer:
Tasmanian Symphony Orchestra also appears on
Features 'De Profundis' based on texts by Oscar Wilde, in addition to 'Violin Concerto No.2', 'Fantasia No.2' and 'Petra'.
Performer

The Australian Rosny Childrens Choir presents A DOZEN OF DENNIS - arrangements of poems from A BOOK FOR KIDS by C.J. Dennis. Accompanied by the Tasmanian Symphony Orchestra.
Performer: Orchestra

The Australian Rosny Childrens Choir, with the Tasmanian Symphony Orchestra presents songs from other lands, Chinese songs, Australian songs, as well as cantatas from Vaughan Williams and Don Kay.
Performer