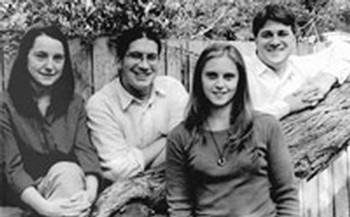 Woof!
Woof! is a Melboune-based percussion ensemble and has been broadcast both on 3MBS FM and ABC Classic FM. It has premiered a number of Australian works and its membership is drawn from all over Australia.
Since its formation in 1995, the Melbourne-based percussion ensemble Woof! has twice performed on ABC Classic FM's 'Sunday Live', as well as performance on Melbourne's 3MBS-FM and as part of the University of Melbourne's Lunchtime Concert Series. The ensemble has performed as part of the Musica Viva 'In Schools' and 'Countrywide' programmes since 1996, presenting concerts in metropolitan Melbourne and regional Victoria and New South Wales. Woof! Also presents its own concert series which has included a number of Australian premieres.
Woof! is featured on the following titles

One of International Record Review's "Best Discs of 2000". Nominated for Best Classical CD at the 2001 Aria Awards. This album was performed on authentic instruments including Grainger's own staff bells and steel marimba. Many previously unrecorded works are included.
Arranger
Members of Woof!