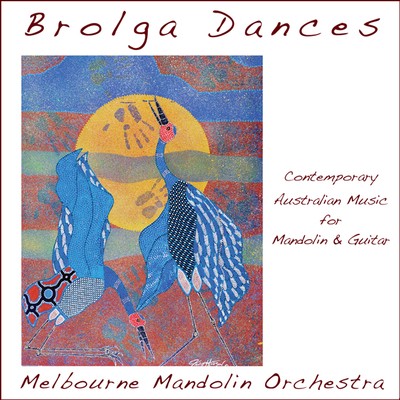 Brolga Dances
This new disc from the Melbourne Mandolin Orchestra showcases contemporary Australian Music for Mandolin and Guitar.
Composers include Peter Sculthorpe, Michelle Nelson, Robert Schultz, Caroline Szeto and Betty Beath.
Composers' comments:
"Thanks so much for sending me a copy of Brolga Dances. I'm really thrilled about my Little Suite for Strings. Michelle has done a truly beautiful arrangement of it - do tell her from me. I especially like the way that the strumming keeps the music moving. It doesn't even sound like an arrangement.
It's a terrific CD, with the music wonderfully conducted by Slava. The performances are just so rhythmic. Also, I like the variety in kinds of pieces and forces used. Certainly I hope it does really well. I congratulate the Melbourne Mandolin Orchestra and everybody who was a part of it."
Peter Sculthorpe
"Well done to the orchestra on their interpretation of my piece; please tell them I was very pleasantly surprised. Please also congratulate Michelle on her fine work and arrangements, you are certainly lucky to have her in your ranks."
Richard Charlton
"Brolga Dances has arrived safely and has brought much pleasure. It was so good to hear such an expressive performance of Mikri Thalassa. There was a lovely sense of the rise and fall within the phrase. Conductor Slava Iourgaev understands the work and has drawn from the orchestra a response, though disciplined, has
the freedom to 'feel' out mood and emotion...so essential to the music."
Betty Beath
Artist

The Melbourne Mandolin Orchestra was formed in 1967 by Peter Evans and Josef Ruecker. Their aim was 'to develop and maintain a mandolin orchestra in Melbourne'. As well as performing regularly, the group organises summer schools, trips from overseas groups, trains new players, holds musical workshops & master classes, and commissions music.
Audio previews
Track Listing
Performers
Composers
Where to buy
Brolga Dances is available as as CD. It can be purchased online through Buywell Music or the Australian Music Centre which both offer secure online ordering.
Move CDs can be ordered through music retailers across Australia including Readings.
Product details
List price

$25.00 AUD

Total playing time

61 minutes 24 seconds

Release date

2009

Copyright

© 2009 Melbourne Mandolin Orchestra

Phonogram

℗ 2009 Move Records

Categories

Catalogue number

MCD 410

Barcode

EAN 9314574041026