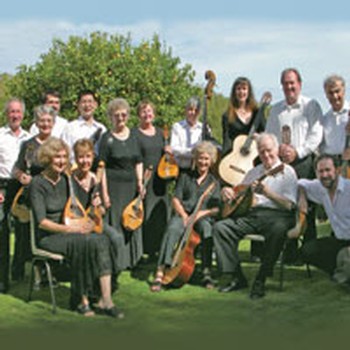 Melbourne Mandolin Orchestra
The Melbourne Mandolin Orchestra was formed in 1967 by Peter Evans and Josef Ruecker. Their aim was 'to develop and maintain a mandolin orchestra in Melbourne'. As well as performing regularly, the group organises summer schools, trips from overseas groups, trains new players, holds musical workshops & master classes, and commissions music.
The widespread and growing popularity of the mandolin is evident by its adoption by popular and folk music all over the world over the past two hundred years.
However this sweet-sounding acoustic instrument evolved in Italy during the baroque period and was widely used as a solo instrument and in small ensembles. Its popularity as a classical instrument has waxed and waned but mandolin ensembles or "zupforchesters" continue to flourish particularly in Europe, Japan, the USA and Australia, providing great pleasure for both audiences and performers alike. New compositions in greatly diverse musical styles continue to be written for classical mandolin ensembles and are highly welcome as they breathe new life into an otherwise unchanging repertoire.
Mandolin orchestras have a format resembling the standard string quartet with first and second mandolin sections. The larger and therefore lower-pitched mandolas are tuned either a fifth lower than mandolins and thus mimic the tuning of the the viola or a full octave lower. The mandoloncello, larger again, relates to the cello of the standard string quartet. Classical guitars and double basses help to round off the sound with the lower registers and often provide the orchestra's rhythmic support.
The Melbourne Mandolin Orchestra, first formed in 1967 by the efforts of Peter Evans and founding conductor Josef Ruecker, has charmed audiences throughout Australia with its unique sound for almost 38 years. It has toured in Europe and Japan on several occasions and won several first prizes at the inaugural International Mandolin Orchestra Competition in Eupen, Belgium in 1993.
The MMO's training camps, such as those in Bendigo many years ago, helped to provide the stimulus for the formation of FAME, the Federation of Australasian Mandolin Ensembles, which functions to promote the classical mandolin and mandolin ensembles throughout Australia and New Zealand.
The Melbourne Mandolin Orchestra has adhered to a long-standing requirement that its players play exclusively on Neapolitan-style mandolins rather than the flat-back style of mandolin. Neapolitan mandolins have the beautiful, but awkward to hold, almond-shaped bodies thought to augment the lower pitched notes, a characteristic thought to be essential to the production of the sweeter sound attributed to this style of instrument.
Fred witt, the conductor of the MMOs first CD with the Move label, Melbourne Mandolin Orchestra, is among the most respected conductors, composers and performers of plucked music in Germany. Born in Dortmund 1922, he learnt guitar, mandolin, zither and piano accordion. His teachers were Theodore Ritter and Willi Althoff. Although his musical education was interrupted by war, he attended the University in Dortmund and there studied guitar, accordion and singing. He has directed some of the best mandolin orchestras in Germany; Nord-Rhein Westfallen, Neuenhain, Hessen State Mandolin Orchestra and the Beyer-Leverkuessen Mandolin Orchestra, the Zither Orchestra-Bochum Langen Dreer and many choirs.
In Melbourne he conducted the German Male Choir Arion and the German mixed choir.
He has won numerous awards for composition and his works are popular worldwide. His first tour was in 1977 with the Deutches Zupforchester. He soon returned to lead the Summer Schools of the Federation of Mandolin Ensembles in 1978, 1979, 1981 and 1990. He has conducted the Melbourne Mandolin Orchestra since 1990 and the combination of an exciting conductor and an enthusiastic orchestra has brought the orchestra's performances to a new height.
The group's new conductor conductor Slava Iourgaev came to Australia in 1994 from Uzbekistan where he obtained his Master's degree ('92) in cello from the Tashkent State Conservatorium studying with Tschackvodze. Slava has been performing with several orchestras in Melbourne, and now teaches at schools and is a member of the string quartet "Unique". Slava has performed many times as a soloist on cello with the MMO over the past few years and has been very popular in his current role as the MMO's conductor.
Artist's website: home.vicnet.net.au
Melbourne Mandolin Orchestra is featured on the following titles
Melbourne Mandolin Orchestra also appears on

The album explores the many combinations throat singing can be presented with. Dean Frenkel has combined his throat singing with a 27 piece childrens choir, guitar and mandolin, with Australian birds, with contemporary piano, in duet with vibraphone, and with a female vocal duo in song format.
Performer

Marvellous music by the well-known Australian composer George Dreyfus, one of Australia's most animated musical personalities.
Performer: Ensemble