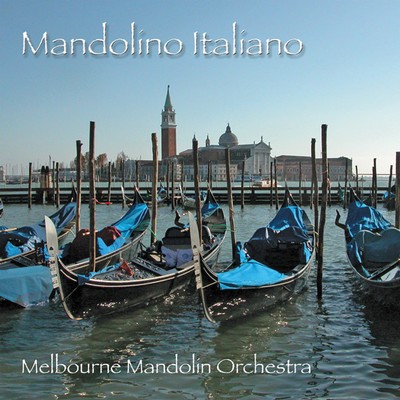 Mandolino Italiano
Music from Italy, including a fantasy on La Traviata.
Artist

The Melbourne Mandolin Orchestra was formed in 1967 by Peter Evans and Josef Ruecker. Their aim was 'to develop and maintain a mandolin orchestra in Melbourne'. As well as performing regularly, the group organises summer schools, trips from overseas groups, trains new players, holds musical workshops & master classes, and commissions music.
Track Listing
San Giusto Ignazio Bitelli 7:02
Vivo, Sostenuto, Giusto 5:08
Largo, vivo, stringendo sempre 7:43
But she is still there Michelle Nelson 5:02
Caro mio ben 2:51
Se tu m'ami, se sospiri 3:36
Nina 3:05
To lo sai 3:08
Andante, Tempo di Valso, Andante 7:07
Allegro risoluto, Allegro moderato 2:17
Lento, Andantino, Moderato, Risoluto 6:32
Serenade Enrico Toselli 4:31
Santa Lucia 1:40
Mari Mari 1:56
Torna a Sorrento 1:52
Funiculi Funicula 2:15
Arrivederci Roma 2:11
Performers
Composers
Where to buy
Mandolino Italiano is available as as CD. It can be purchased online through Buywell Music or the Australian Music Centre which both offer secure online ordering.
Move CDs can be ordered through music retailers across Australia including Readings.
Product details
List price

$25.00 AUD

Total playing time

67 minutes 56 seconds

Release date

2005

Copyright

© 2005 Melbourne Mandolin Orchestra

Phonogram

℗ 2005 Move Records

Categories

Catalogue number

MCD 292

Barcode

EAN 9314574029222