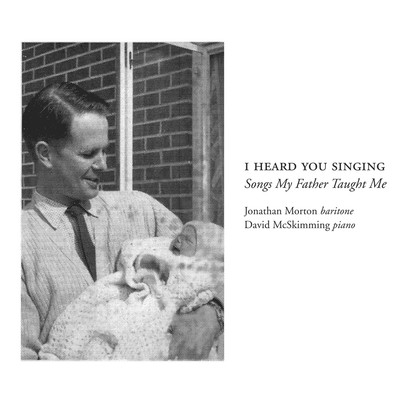 I Heard You Singing
This is Jonathan's first solo album. It contains many of his favourite songs from his favourite genre English art song.
This CD is subtitled "Songs my father taught me". Jonathan Morton sings A Shropshire Lad, songs of travel by Vaughn Williams, Hums of Pooh, and other English songs, accompanied on piano by David McSkimming.
Jonathan Morton describes the inspiration for this CD: "Dad took us camping to remote places where he would set up camp for us and then disappear during the daylight hours. Naturally, I thought these places were chosen to provide the best possible holidays. In fact, they were the homes of the rare species of butterflies that he loved to collect. My sister and I loved him to read to us: The Hobbit, Lord of the Rings, The Narnia books. Sometimes we'd play cricket. These were the best times. Or nearly the best. Occasionally, Dad would come swimming. That was the best. He played an excellent shark. He was funny at the pool; he has very delicate English feet and never walks barefoot.
"My final year of school, we bought a new house. It was a renovator's delight. I chose the smallest room in the house, as it overlooked the garden. Mum is very good with gardens and I knew that when it stopped being a bomb site it would look a picture. The room was adjacent to the family room which housed the piano. This was the year Dad decided to get back into the German Lieder and English Art Song that he had loved at university. So I learnt many new songs while I studied chemistry and maths.
"Dad set me an example of intelligence, gentility, humour, patience, humility and kindness. He now lives in the country and loves to read, cook and retreat to the room affectionately named 'the buggery', where he sorts, sets and stores his bugs (mainly lepidoptera)."
Artist

Jonathan Morton has a Bachelor of Science in chemistry, is an IT whiz and plays the didgeridoo. He performed with the VSO from 1988 and is a founding member of Pot-Pourri.
Press quote
"His singing is wonderful and I can highly recommend the disc which I am certain would have widespread appeal."
— Inge Southcott, Music Forum Magazine
Track Listing
Performers
Composers
Where to buy
I Heard You Singing is available as as CD. It can be purchased online through Buywell Music or the Australian Music Centre which both offer secure online ordering.
Move CDs can be ordered through music retailers across Australia including Readings.
Product details
List price

$25.00 AUD

Release date

August 2012

Copyright

© 2012 Jonathan Morton

Phonogram

℗ 2012 Jonathan Morton

Category

Catalogue number

MCD 470

Barcode

EAN 9314574047028