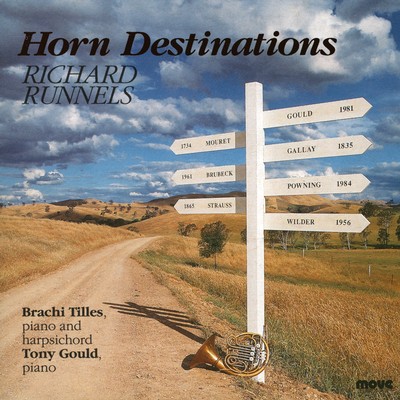 Horn Destinations
Outstanding horn player Richard Runnels presents an exciting collection of pieces for horn and keyboard. With Brachi Tilles and Tony Gould.
Richard Runnels, principal horn player for the State Orchestra of Victoria takes centre stage in a program of horn music spanning several centuries - from the elegance of 17th century France through Franz Strauss, completing the tour with several Australian pieces, including 'Duet' by Tony Gould.
Artists

American-born horn player Richard Runnels, is currently the principal horn of the Orchestra Victoria. Richard has conducted for the Australian Ballet and made his opera conducting debut at the 1987 Spoleto Festival in Italy. He also directs Melbourne Windpower.

A specialist in accompanying and chamber music, Brachi Tilles has appeared as soloist with the Melbourne Symphony Orchestra, Rantos Collegium, Queensland Philharmonic Orchestra and the Melbourne Chamber Orchestra, including their tour of Korea.

Pianist and composer Tony Gould is one of Australia's most respected musicians. His career has embraced many styles of music, not least jazz and other improvisatory musics in addition to traditional and contemporary classical musics. He gives many concerts each year and for 50 years he has been involved in an extraordinary number of recording projects both as pianist and composer and has been at the forefront of music education in Australia via various tertiary institutions in Melbourne and throughout Australia.
Press quotes
"an interesting release ... a program of considerable diversity ..."
— The Age - Green Guide
"In covering so much musical ground, he has been able to colour his playing with many shades of sound, thus broadening the horizons of his instrument to a sphere most would not assume possible."
— Louis Montague, The Sunday Age
"Runnels effortlessly entices the listener to explore unknown territory. His playing slips easily from the courtly manner of Jean-Joseph Mouret ... to the likes of Dave Brubeck ..."
— Jeremy Vincent, 3MBS FM Libretto
Audio preview
Track Listing
Relentlessly 6:45
Moderately 7:19
Fanfare :53
Menuet 1:10
Fanfare :30
Vite 1:13
Lent 1:47
Sur l'Air du Vaudeville :38
Fantaisie Brillante on a Theme from Bellini's Opera 'Norma' Jacques François Gallay 11:24
Strange Meadow Lark Dave Brubeck 6:06
Bluette Dave Brubeck 3:08
Lamento Dave Brubeck 4:31
Impromptu Graham Powning 2:10
Nocturno Franz Strauss 6:55
Dans Quixotic 1:56
Slow and Sweet 2:57
Song 1:20
Epilogue 3:04
Suitable for Dancing 2:30
Performers
Composers

Jacques François Gallay was a French horn player and composer. Gallay studied at the Conservatoire de Paris at Louis François Dauprat. Gallay's work is very extensive. In addition to didactic works, etudes, and a horn school, he composed two horn concertos, and various other works for horn and orchestra.

Over the past twenty years Graham Powning's compositions have been written mainly for woodwind instruments and his great sense of humour shows through in the highly imaginative titles of his works.
Where to buy
Horn Destinations can be purchased online through Buywell Just Classical or the Australian Music Centre which both offer secure online ordering.
This title is also available in (or can be ordered through) many fine music retailers across Australia, including Thomas', Discurio and Readings.
Product details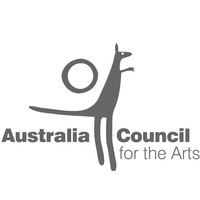 This recording project has been assisted by the Commonwealth Government through the Australia Council, its arts funding and advisory body.
List price

$25.00 AUD

Total playing time

66 minutes 16 seconds

Producer

Martin Wright
Richard Runnels
Terry O'Kane


Engineer

Martin Wright


Venue

Melbourne Concert Hall


Thanks to

Australia Council


Release date

1991

Copyright

© 1991 Move Records

Phonogram

℗ 1991 Move Records

Categories

Catalogue number

MD 3106

Barcode

EAN 9314574310627