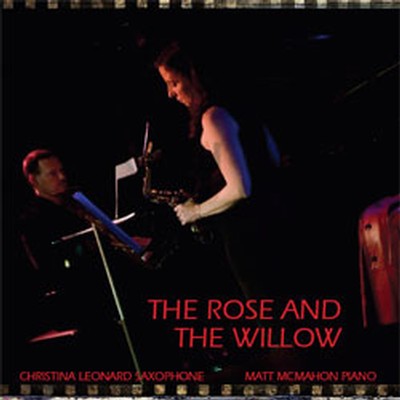 The rose and the willow
The vision for this project was to use the music of Piazzolla, Ginastera and Guastavino as a launching point, to exploit the improvisatory nature of the genre and to rebuild the music from its bare elements to a work that gives equal emphasis to both the piano and saxophone.
Piazzolla, Ginastera and Guastavino each in their own way had the unique ability to explore a wide range of emotional states in their music. Aside from the powerful emotional content of the music chosen for this CD, this music is also representative of an aesthetic which straddles the perceived boundaries that separate jazz, folk and classical forms. The combination of these elements with the idea to create a new dimension to these composers existing ideas made this an exciting and challenging project on many levels.
Artists

Christina is committed to expanding the repertoire of music for saxophone and is highly involved in the arrangement and concert promotion of music in new frameworks.
Matt McMahon is a Sydney based pianist, keyboardist and composer. Having studied music and English literature at Sydney University and jazz studies at the Sydney Conservatorium of Music, he has been actively performing and recording music since 1993.
Press quote
"This is one for the jazz enthusiast who enjoys a South American flavour...saxophonist Christina Leonard and pianist Matt McMahon, set out to create new dimensions, improvising on the composers' ideas...this CD makes very interesting listening"
— Margaret McNamara, 4MBS Program Guide
Track Listing
Composers
Where to buy
The rose and the willow is available as as CD. It can be purchased online through Buywell Music or the Australian Music Centre which both offer secure online ordering.
Move CDs can be ordered through music retailers across Australia including Readings.
Product details
List price

$25.00 AUD

Total playing time

46 minutes 26 seconds

Release date

2008

Copyright

© 2008 Christina Leonard

Phonogram

℗ 2008 Move Records

Category

Catalogue number

MCD 392

Barcode

EAN 9314574039221