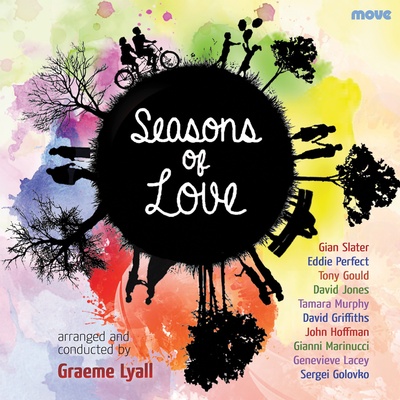 18 June 2013
Seasons of Love at Melbourne Recital Centre
A new CD featuring the superb arrangements of Graeme Lyall, vocalists Gian Slater and Eddie Perfect, Tony Gould, David Jones and more was launched at a special concert on 18 July 2013.
As part of the Melbourne Recital Centre's American Songbook series, songs from the CD were performed, officially launching 'Seasons of Love'.
Further reading

This CD combines a jazz trio, a string orchestra, and various featured instrumental soloists, not to mention the vocal talents of Gian Slater and Eddie Perfect. Graeme Lyall has provided superbly rich arrangements of songs from the Great American Songbook in addition to other notable tunes.

Pianist and composer Tony Gould is one of Australia's most respected musicians. His career has embraced many styles of music, not least jazz and other improvisatory musics in addition to traditional and contemporary classical musics. He gives many concerts each year and for 50 years he has been involved in an extraordinary number of recording projects both as pianist and composer and has been at the forefront of music education in Australia via various tertiary institutions in Melbourne and throughout Australia.

Prolific Australian Vocalist and Composer, Gian Slater is known for her agile and pure voice, virtuosic improvisations and inventive compositions.  

Graeme is widely regarded as one of the greatest jazz saxophone players and arrangers Australia has produced. As well as performing, writing, arranging and teaching at the WA Academy of Performing Arts, he is also the Artistic Director of the WA Youth Jazz Orchestra and musical director of the 50 strong WAYJO Composers Ensemble.