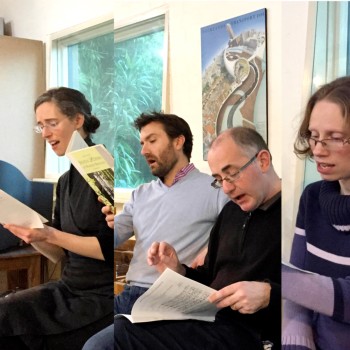 Angeli Vocal Ensemble
Angeli Vocal Ensemble consists of two couples: Kate McBride and Tom Reid (soprano and bass), and Leonie Tonkin and Vaughan McAlley (alto and tenor). Each couple met in choirs directed by Douglas Lawrence. A focus of its repertoire is secular and sacred music of the sixteenth century, so the renaissance-inspired music of Vaughan McAlley suits it well.
For music on more than four parts, other equally talented friends have joined in over the years, particularly alto Niki Ebacioni. With five children between them these days, performances must be meticulously planned!
Angeli Vocal Ensemble is featured on the following titles

Performer: singers
Angeli Vocal ensemble, pianist Michael Kieran Harvey, chamber choir Ensemble Gombert, and the Four Seasons String Quartet perform the music of Melbourne composer Vaughan McAlley. It is a fascinating exploration of music written for 4 parts, and up to 40 parts in Vaughan's unique approach to counterpoint.
Members of Angeli Vocal Ensemble
Vaughan is a composer and arranger, a capable flautist and french horn player as well as engineer of countless Move CD releases.