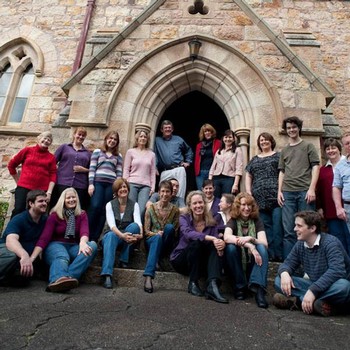 Canticum Chamber Choir
Canticum Chamber Choir is an independent semi-professional choir based in Brisbane. It was formed in 1995 with Emily Cox as its founding Music Director. The ensemble's members are skilled amateur musicians, some of whom have had formal musical training and others who are professionals in other fields.
The choir performs a diverse repertoire from the renaissance and baroque periods through to choral music of late 20th century and contemporary composers, and has been premiered many works. Apart from presenting its own concert series, Canticum has collaborated with professional arts companies, including several productions with the Queensland Ballet and many concerts with the QSO and the QYSO.
Other highlights have included performances in the Brisbane Festival, the Queensland Biennial Festival of Music and Cathedrals Week. A highlight of Canticum's history was its selection from an international field of choirs to perform at the 7th World Symposium on Choral Music held in Kyoto, Japan in 2005. In 2010, Canticum performed Handel's Messiah with the QSO, under the directorship of Geoffrey Lancaster. Recently, the ensemble participated in the world premiere of Elena Kats-Chernin's Symphonia Eluvium for the Brisbane Festival, with Brisbane Chorale and the QSO. Canticum has released several CD recordings, including In Paradisum, a Celebration of Australian Choral Music.
Artist's website: www.canticum.org.au
Canticum Chamber Choir is featured on the following titles

Performer
Christmas at the Sydney Town Hall, presented annually by the City of Sydney, originated in 1978 when Robert Ampt was appointed the fourth Sydney City Organist. Since then the structure and content of this event has evolved into one of Sydney's major Christmas celebrations.

Performer: ensemble
Light is integral to colour, and musical integrity is often described in terms of its colour or luminescence. Celebrating Canticum's 21st birthday year, composers were sought whose music reflects a particular sensitivity to the versatility of the choral instrument and which celebrates beautiful text.