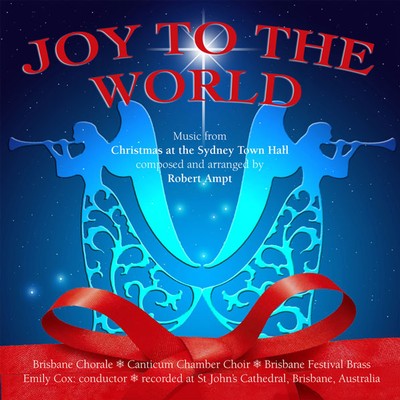 Joy To The World
Christmas at the Sydney Town Hall, presented annually by the City of Sydney, originated in 1978 when Robert Ampt was appointed the fourth Sydney City Organist. Since then the structure and content of this event has evolved into one of Sydney's major Christmas celebrations.
Christmas at the Sydney Town Hall brings together a massed choir, children's choir, vocal and instrumental soloists, brass and percussion players, and the legendary William Hill and Son pipe organ played by Robert Ampt, who also conceives and plans each year's event. Throughout the evening, poems and short narratives alternate with music; all enhanced by pageantry, special lighting and the awe-inspiring grandeur of the Sydney Town Hall itself.
But the music, much of it propelled and energised by the great organ, is the main reason the hall is packed year after year. The capacity audience sings its collective heart out during the thrilling carol arrangements, and ponders and reflects during the colourful and often moving choral and solo works. Much of this music has been composed or arranged by Robert Ampt. This CD offers, for the first time, a selection of Ampt's Christmas music, most of which received its first performance in the Sydney Town Hall.
Artists
Press quotes
"This CD is something of a revelation. Recorded in the magnificent acoustics of St John's Cathedral, with a superb organ, the arrangements by Robert Ampt are truly wonderful and a joy to listen to. … there are many moments of excitement, exquisite beauty and sheer joy."
— Graham Cole, Sydney Organ Journal
"Perhaps the most striking characteristic of each choir is the clarity of the diction: you can hear every word. … Anyone looking for interesting, imaginative and well-crafted new arrangements and harmonizations as a change from the usual 'Carols for Choirs' versions, need look no further."
— Indra Hughes, ORGANZ
Track Listing
Joy to the World
Once in Royal David's City
Infant Holy, Infant Lowly
God Rest You Merry, Gentleman
All Poor Men and Humble
Sing with Joy, O Earth and Sky
Beside Thy Manger Here I Sky
O Come, O Come Emmanuel
Mary the Virgin
Lord, Now Lettest Thou Thy Servant Depart in Peace
Manyfold Amen
A Babe is Born in Bethlehem
Coventry Carol
Angels fromt he Realms of Glory
Silent Night
Christmas Night
While Shepherds watched Their Flocks by Night
Kookaburra Sits in the Christmas Tree
Christmas Day
Where to buy
Joy To The World is available for download from the iTunes Music Store.
It's available for streaming through Apple Music.
Joy To The World is available as as CD. It can be purchased online through Buywell Music or the Australian Music Centre which both offer secure online ordering.
Move CDs can be ordered through music retailers across Australia including Readings.
Product details
List price

$15.00 AUD

Release date

December 2012

Copyright

© 2012 Move Records

Phonogram

℗ 2012 Move Records

Category

Catalogue number

MD 3359

Barcode

EAN 9314574335927