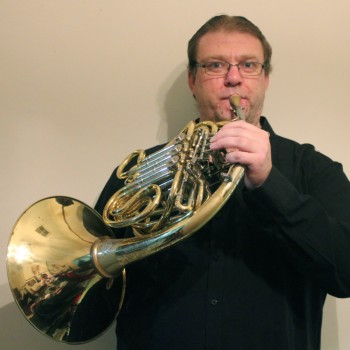 Mark Papworth
Melbourne tram driver Mark Papworth is a highly accomplished musician who studied in Melbourne, Perth and the United States, is at home on very different types of French horn: baroque, natural and modern.
Mark Papworth began learning the horn at Winchelsea Primary School with Brian Blackett, before completing high school at the Victorian College of the Arts Secondary School studying with Russell Davis. After high school Mark moved to Perth to study at the University of Western Australia with Darryl Poulsen. During this time Mark developed a strong interest in studying historical performance practice and played the Classical and Baroque horn. During his time in Perth Mark also performed in major works by Wagner and Mahler with the West Australian Symphony Orchestra.
After graduating, Mark pursued his interest in historical performance practice and studied Baroque and Classical horn at Indiana University with Richard Seraphinoff. Mark regularly performs with orchestras and in chamber music on the Baroque, Classical and Modern horns and formed the chamber group Bonza Brass with Per Forsberg.
Mark plays on an Alexander 308 Horn, and on tracks 3, 4, 10 and 12 is playing on a Wagner Tuba provided courtesy of Sandra McColl.
Mark Papworth is featured on the following titles

Mark Papworth (natural and valved horns) and Rosa Scaffidi (piano) perform music by Berlioz and Blanc. This CD features repertoire that highlights two different types of horns used in France in the late 19th century.
Performer: horn
Mark Papworth, natural horn, and Amanda Millar, piano and cello, present New Wine in an Old Bottle, a CD of new works for natural horn by Australian composer Thomas McConochie. These sonatas are written in a neo-classical style that harks back to the golden era of the pre-valve natural horn during the time of Haydn, Mozart and Beethoven.
Performer

"Brassy revamp for Wagner" (The Age, 29 April 2020). This is a musical journey through Wagner's Ring of the Nibelungs, arranged for horn, tuba and piano by Mark Papworth.
Performer: Horn
Arranger