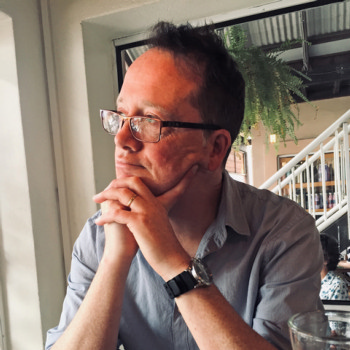 Rohan Phillips
Rohan Phillips is a composer and conductor living in Bendigo, Central Victoria. He has written for a range of instrumental and vocal forces and his works have been performed nationally by professional and amateur musicians.
As a conductor Rohan has worked with a variety of ensembles including the Bendigo Chorale (1998-2008) and the Bendigo Symphony Orchestra (2008-2018). Rohan is currently musical director of the choir of St Paul's Cathedral, Bendigo, a position he's held since 2007.
Early efforts in composition were encouraged by Helen Gifford - his 2nd cousin - who continues to be a major influence. As well as tutelage and assessment of early works, Helen suggested further listening and exploration of 20th century music. The 1988 production of Gifford's Regarding Faustus left a strong impression on the young musician.
Rohan commenced formal composition studies under Larry Sitsky and David Worrall at the Australian National University in Canberra in 1989, graduating with a B.Mus (Composition) in 1993, and an M.Mus (Comp.) in 1997. During his M.Mus he received the Harold Allan Memorial Prize.
Rohan's music has been performance by the Bendigo Symphony Orchestra, Bendigo Chorale and Bendigo Chorale Orchestra, the Tasmanian Symphony Orchestra, Arcko Symphonic Ensemble, Argonaut Brass Ensemble, Norio Sato, Mauricio Carrusco, Matthew Breaden, Timothy Phillips and Mardi McSullea.
Compositions by Rohan Phillips appear on

The third release in this series from Derek Jones, Flute Perspectives 3 continues to convey the synergy of the fascinating and varied Australian classical flute repertoire, with new works Jones has commissioned, some of them being recorded for the for the first time on this album.
Composer

Derek Jones (flute) and Cameron Roberts (piano) present a program of new Australian works composed by Anne Boyd, Stuart Greenbaum, Rohan Phillips, Mark Pollard and Richard Meale.
Composer