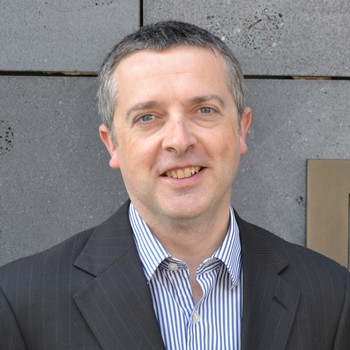 Stuart Greenbaum
With a catalogue of over 185 works written for the concert stage, Stuart Greenbaum's music is heard regularly in Australia and abroad. Nelson, a 3–act opera with libretto by Ross Baglin, was presented in London in 2005 and premiered in full at the 2007 Castlemaine State Festival. Their second opera, The Parrot Factory, received a 5-show season in 2010 staged by Victorian Opera at The Malthouse.
Major choral works include The Foundling, commissioned by Cantori New York in 1997 andFrom the Beginning commissioned for the sesquicentenary of the Royal Melbourne Philharmonic in 2003.
Greenbaum's orchestral output includes works for the SSO, TSO, AYO and recently Symphony No.2 (Double Planet), commissioned by the Melbourne Symphony orchestra. Major chamber works have been written for The Australia Ensemble, Southern Cross Soloists, Ensemble Liaison and Sydney Omega Ensemble.
He was a Featured Composer at the 2006 Aurora Festival, resident composer at the 2009 Port Fairy Spring Music Festival and Composer in Focus at the 2009 Bangalow Music Festival. In 2009 he was Australia's representative for the Trans-Tasman Composer Exchange, working in Auckland with NZTrio on a new piano trio, The Year Without a Summer, which toured nationally for Chamber Music New Zealand, in Sydney for the ISCM World New Music Days (2010) and internationally at the City of London Festival (2011).
Prizes include the Dorian Le Galliene Composition Award, the Heinz Harant Prize, and the Albert H. Maggs Composition Award. 90 Minutes Circling the Earth won Orchestral Work of the Year at the 2008 Classical Music Awards.
Having studied composition with Broadstock and Conyngham at the University of Melbourne, Greenbaum now holds a position in the Melbourne Conservatorium of Music as Head of Composition and from 2015, Professor.
Compositions by Stuart Greenbaum appear on