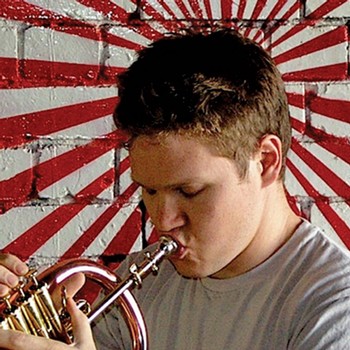 Tristram Williams
Tristram Williams maintains a busy international career as a leading young soloist, ensemble musician, improvisor and educator.
Williams is particularly interested in new music, and has worked with many international and Australian composers, and has had many solo works composed especially for his unique talent.
Williams is also an avid improvisor, and has an electro-acoustic group, based at SIAL sound studios at RMIT, called DIODE.
Williams was Associate Principal Trumpet of the Melbourne Symphony Orchestra at age 21, before resigning in 2006 after 7 years to concentrate on his solo career. He is a laureate of major international trumpet competitions in Brussels and Eindhoven, and was awarded a prize from Karlheinz Stockhausen at the 2006 Stockhausen Interpreters Course. Tristram Williams
was the winner of a 2007 Symphony Australia Young Performer Award and a 2008 Churchill Fellowship.
Tristram Williams appears on

Orchestral, chamber and operatic music by composer Eve Duncan, performed by a variety of different ensembles and performers.
Performer: Trumpet
A collection of Michael Kieran Harvey's compositions from 2007-2013 ranging in mood from the relatively serious to cheerful pastiche. Harvey is joined by the very brightest young instrumentalists Australia has to offer.
Performer: Trumpet