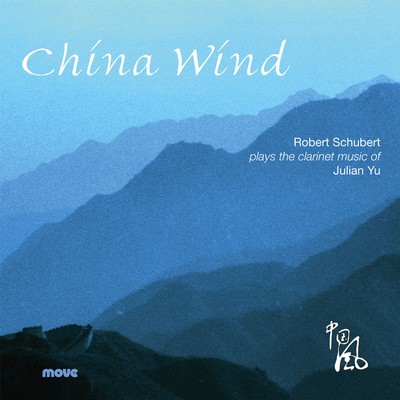 China Wind: the clarinet music of Julian Yu, Volume 1
Robert Schubert plays the clarinet music of Julian Yu. Clarinettist Robert Schubert has always been an admirer of composer Julian Yu's music ever since they first met in 1996 at the Melbourne International Festival of the Arts.
Robert has since commissioned a number of works from Yu with the support of the Australia Council. China Wind represents the fruits of their collaboration. Each work owes aspects of its conception to the composer's native China and to the characteristics of the featured wind instrument, the clarinet.
The Melbourne International Festival of the Arts originally commissioned the work 'Atanos' in 1995 for performance by a group of French musicians at one of four concerts entitled Homage to Louise Hanson Dyer that did not eventuate.
Julian Yu has always been fascinated by the organization, discipline and formularisation of Western classical music. These qualities, which also belong to Chinese folk music, can imply limitation, but Yu builds from such foundations with great freedom. The music of Atanos is non-programmatic and follows its own inner laws. Yu has adopted the Chinese method of ornamentation, tapping into the inner structure of his inherited musical tradition rather than superficially borrowing its sounds and scales. To adopt the structures and mental processes of his musical predecessors, rather than their raw material: this is the great lesson Yu learned from his mentors, Joji Yuasa and Shinichiro Ikebe.
Yu originally wrote Sol Do La Re as an exercise in counterpoint for string quartet while he was studying in Japan in 1985. While not strictly serialist, the piece is built around a ground bass of twelve tones. The tone row is arranged pentatonically, and is repeated ten times as a ground bass, above which the music gradually unfolds as a work of extraordinary beauty and emotional intensity. In 1996, I urged Yu to write a version for clarinet and string trio. The premiere of this version took place on September 9, 1999 at the Religious Centre, Monash University, Melbourne.
In 1997, Robert asked Yu to write a new work featuring the clarinet. This work 'The Lamentation of Micius' was premiered on 11 October 1998 at Chapel Off Chapel, Prahran, Melbourne.
Yu had come across some ancient music known as Micius Laments the Silk while he was
a student at the Central Conservatory of Music, Beijing. Micius, an ancient philosopher, had lamented that pure silk was dyed with different colours, and likened this process to what happens to people when they mix with the world, taking on the "colours" of their environment, and losing their purity and innocence. Micius Laments the Silk was written for a kind of zither called the ch'in, an instrument played by scholars whose music was considered to be highly spiritual.
Robert's next collaboration with Yu resulted in the Concerto on Chinese Themes for Clarinet and String Orchestra, commissioned in partnership with conductor Marco van Pagee and the Victorian College of the Arts. The concerto's raw material comes from northern Chinese instrumental music for wind and percussion, a recognized genre often played at weddings and other celebrations. This is exuberant music, full of easily-remembered melodies, strident sounds and striking rhythms. Yu hoped that Australian audiences would find the work unique and exciting, while Chinese listeners would recognize the melodies and feel nostalgia for their homeland. In seeking a brighter, exuberant sound for this concerto, Yu has written for clarinet in C. This instrument is less commonly heard than the more regularly used clarinets in B flat and A. The clarinet in C is smaller and brighter in tone, and brings a distinctive quality to the outer movements.
The concerto broadly follows the traditional classical form and consists of three movements. The first movement starts, unusually, with a lyrical, leisurely and expressive cadenza. The following moderato section introduces a beautiful melody from Shandong Province called Yi Zhi Hua (One Flower), famous throughout China as a solo piece for the suona (a Chinese double-reed wind instrument). This is followed by an allegro section, then a prestissimo section that brings the first movement to a lively climax.
The second movement is slow, in keeping with classical concerto form. A wistful theme, taken from a suona piece from Hebei Province, is played first in the lower register of the clarinet, then moves to the higher registers, after which the cello takes over the theme, while the clarinet plays a counter melody above.
The third movement is based on a famous piece for wind and percussion from Hebei Province called Tao Jin Ling. Tao jin means to pan for gold or seek a fortune. The atmosphere is exuberant. The two occurrences of a long trill are traditionally played using circular breathing, and are continued until the audience breaks into applause. The original drum and gong interludes can be heard in the percussive string passages at the beginning, middle and end of the movement. The concerto closes with a virtuosic cadenza accompanied by woodblocks in the style of traditional Chinese opera.
Silent And Alone is a setting of three poems by Li Yu (937-978), the last emperor of the Southern Tang Dynasty. Imprisoned after he was overthrown, Li Yu wrote in his diary that he "washed his face with his tears every day", so miserable did he feel. Three poems Li Yu wrote during this time are titled Since We Parted, Silent and Alone and Lingering Thoughts.
1 Since We Parted
Since we parted, spring is over. Everything I see is filled with
sorrow.
Below the steps plum blossoms
whirl in the snowflakes;
No sooner brushed away, than I am buried again.
The wild geese have brought no news of home.
The roads are long, my dreams are thinning out.
Sickness for home is like the grass in spring;
The farther you travel, the thicker it grows
2 Silent and Alone
Silent and alone I climb the west tower.
The moon is like a hook. Desolate wu-t'ung tree
in the shady courtyard
imprison clear autumn. Cut, not severed, Disentangled, not
unraveled;
The sorrow of parting
Is a strange and unknown
flavour in the heart.
3 Lingering Thoughts
One range of mountains,
Two ranges of mountains,
The mountains far, the sky high, the misty water cold. My deepest thoughts have reddened the maple leaves.
Chrysanthemums blossom.
Chrysanthemums fade,
The wild geese fly high, the traveler has not returned. The wind and moon hover on the bamboo screen.
Artists

Robert Schubert is a Melbourne-based clarinettist and teaches woodwind at the Victorian College of the Arts.

The multi-award winning Australian composer Julian Yu employs a musical language imbued with a high degree of elegance and expressiveness, which are both enhanced by an impeccable craft and special attention to detail.
Press quotes
"This disc, with the accomplished clarinet playing of Schubert, is highly recommended" ★★★★½
— Paolo Hooke, 2MBS Fine Music Magazine
"Julian Yu is one of Australia's most illustrious composers, with an international reputation and a long list of awards to his name. This CD presents a selection of Yu's music from several stages of his career, with the common thread being the clarinet, and more specifically, clarinettist Robert Schubert, a long-time champion of Yu's music.
As a survey of chamber and orchestral works ranging from the 1980s to the early 2000s, this album serves as a good introduction to Yu's work. The playing from Schubert and his collaborators is exceptionally fine, and the recordings made in several locations around Melbourne capture beautiful, rich sounds from the various ensembles. This high fidelity tone-colour and sound quality is of course what every composer hopes for, but is perhaps particularly important for Yu's very "classic" music which seems to demand a certain consistency of sound in performance and reproduction. The earliest work represented here, Sol Do La Re, is a passacaglia study from the early 1980s. It's a charming curiosity, and evidence of Yu's longstanding mastery of the technical mechanisms of Western counterpoint.
Two more substantial works, Atanos and The Lamentation of Micius, date from a key period of Yu's work, the 1990s. Here, we find the creative voice that made him famous, introducing what seemed to be a new kind of lyricism to late-20th century modernist concert music. Atanos (1995) is a very fine piece for clarinet, flute and string trio, inflected with a lovely warm chromaticism and references to the twilight romanticism of Zemlinsky, early Schoenberg and Berg.
The Lamentation of Micius (1997-8), on the other hand, takes inspiration from ancient Chinese Qin music. While not actually making direct use of the musical material of the original, the Chinese music suggested certain kinds of sonority to Yu. The result is a terrific ensemble piece for clarinet and string quartet, making particularly splendid use of pizzicato effects to create a beautiful sound-world that is somehow both abstract and poetic. With the three-movement Silent and Alone (2000), originally composed for voice and orchestra but here presented in an alternate version for clarinet and string quartet, we find Yu giving free reign to the frank romanticism that must have been an asset during his early career as a "ghost writer" for film and tv soundtracks. Here, the chromatically saturated diatonicism that was always latent in Yu's concert music gives way to explicit tonality and an aesthetic that sounds strangely retro, complete with quaint oriental flourishes.
The most recent work on the CD, a Concerto on Chinese Themes for Clarinet and Orchestra (2004) takes this a big step further into the well-trodden genre of folksy Chinese-Western orchestral hybridity. Appropriating some well-known Chinese "folk" tunes, this concerto seems to hark back to some kind of naively ideological musical style. A nostalgia for the composer's youth? A political message about the role of China in the modern world? Or perhaps a respectful homage to the pioneers of Chinese orchestral composition in the optimistic years of the old republic, who themselves used some of these same tunes? What this style of music means for the 21st century remains unclear. The Greek composer Iannis Xenakis noted that when transcribed into western notation Asian music loses its unique characteristics and sounds like western music. Yu's concerto seems closer in spirit to early Vaughan-Williams than to anything particularly Asian, and perhaps that is the point."
Read full review
— Alistaire Noble, Music Trust Website
Audio previews
Track Listing
Performers
Where to buy
China Wind: the clarinet music of Julian Yu, Volume 1 can be purchased online through Buywell Just Classical or the Australian Music Centre which both offer secure online ordering.
This title can be ordered through fine music retailers across Australia including Readings and Fish Fine Music.
Product details
List price

$25.00 AUD

Release date

October 2012

Copyright

© 2012 Move Records

Phonogram

℗ 2012 Move Records

Category

Catalogue number

MD 3351

Barcode

EAN 9314574335125