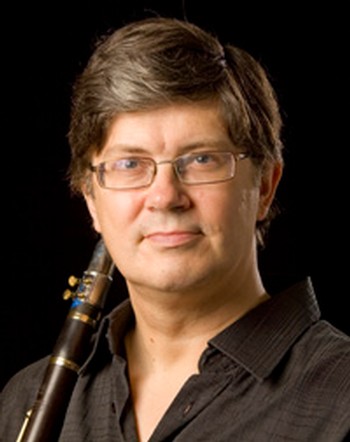 Robert Schubert
Robert Schubert is a Melbourne-based clarinettist and teaches woodwind at the Victorian College of the Arts.
Robert Schubert graduated from the Victorian College of the Arts in 1982 having studied with Isobel Carter-Stockigt and Phillip Miechel (Principal Clarinet, Melbourne Symphony Orchestra). From 1983 to 1985, he studied clarinet with James Campbell at the Royal Conservatory of Music, Toronto, Canada and with James Morton (Principal Clarinet, National Arts Orchestra of Canada), and with Larry Combs (Principal Clarinet, Chicago Symphony Orchestra).
In 1988 Hiroyuki Iwaki appointed him Principal Clarinet with the Orchestra Ensemble Kanazawa, Japan, a position he held until his return to Australia in 1996. During this period, he also performed as guest clarinet with the NHK Orchestra in Tokyo and guest principal clarinet with the Hiroshima Symphony Orchestra. Active as a chamber musician and soloist, he appeared frequently as soloist with Orchestra Ensemble Kanazawa. He has recorded with the Orchestra Ensemble Kanazawa on Deutche Gramophone, Victor and Sony labels. In Melbourne Robert has performed with the Melbourne Symphony and Orchestra Victoria, and has appeared in both the Melbourne International Festival and in live broadcast for the ABC.
Mark Pollard, Julian Yu, Chan Hae Lee, Tetsuya Nishibe and Peter Tahourdin have all composed works for Robert, many of which have been recorded and broadcast by ABC Classic FM. Since 1996 he has held the position of Lecturer in Woodwind at the Victorian College of the Arts, now the Melbourne Conservatorium of Music, Melbourne University.
Robert Schubert is featured on the following titles

Performer: Clarinet
The five works on this CD, for clarinet with strings, piano, and flute, demonstrate Julian Yu's remarkable versatility, emotional breadth and mastery of compositional style and technique, as he taps into the inner structure and mental processes of his Chinese musical tradition rather than superficially borrowing its raw material.

Performer: Clarinet
Inspired by the Gamelan and Japanese Shinto music, the recent ambient work of Mark Clement Pollard is unique in its pursuit of beauty and simplicity. A Handful of Rain is the first comprehensive collection of this acclaimed Australian composer's popular style.
Robert Schubert is featured on the following titles

Performer: clarinet
A series of catchy short pieces composed for clarinet and string quartet, and piano by Julian Yu. Often playful, these pieces are based on oddly familiar classical themes. Chinese folksongs, Dvorak and Mozart are also featured. The track titles will give you some idea of what to expect.
Robert Schubert also appears on

Performer: clarinet
A special CD to celebrate Move Records' 50th year. Twenty-four Australian composers were invited to create a new short work for this special commemorative disc.

Performer: clarinet
This CD will be launched on 11 March 2017. It is a companion to the Australian composer's other Move CD "Exposé". It showcases solo pieces for cello and flute, electronic scores, and small ensemble pieces.
Performer: Clarinet
Ambient Voice features Dean Frenkel's haunting harmonic vocals strategically placed over and within the music of outstanding Australian composers, including Mark Clement Pollard, George Dreyfus, Andrew MacGregor and the group Invention in Time.