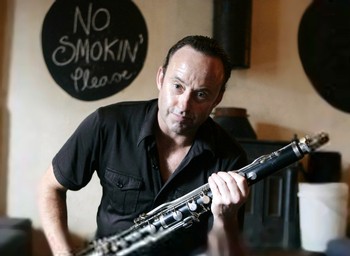 Christopher Young
Christopher Young (soprano sax, flutes and bass clarinet) is best-known for co-leading the Lewis and Young Ensemble in the 1990s with well-known indigenous actor/musician Tom E. Lewis.
Christopher Young is featured on the following titles

The Christopher Young Quartet presents 10 new tracks by Young and members of the Quartet.
Performer: Clarinet, Saxophone, Flute
Composer
A new collaboration with some of Christopher Young's oldest collaborators — acoustic bassist Nick Haywood (from the Lewis and Young Ensemble) and guitarist Tom Fryer, with the addition of the great veteran drummer, Ted Vining. More about Christopher Young Quartet

"One of the most rewarding sessions I've recorded for Jazztrack. Maybe the stars aligned that day...the musicians really listening and responding to each other. It's music that surprises and explores."
Performer: Bass Clarinet, Clarinet, Flute
Composer
Compositions by Christopher Young also appear on

A special CD to celebrate Move Records' 50th year. Twenty-four Australian composers were invited to create a new short work for this special commemorative disc.
Performer: Saxophone
Composer
Christopher Young also appears on

Ambient Voice features Dean Frenkel's haunting harmonic vocals strategically placed over and within the music of outstanding Australian composers, including Mark Clement Pollard, George Dreyfus, Andrew MacGregor and the group Invention in Time.
Performer: Clarinet