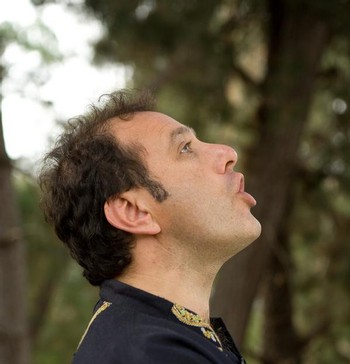 Dean Frenkel
Dean Frenkel combines the ancient Tibetan technique with modern compositions, creating a unique hybrid musical form. He used his throat singing technique to smash the world record for singing a continuous note.
Dean Frenkel is one of the world's leading overtone singers and has performed and recorded his vocal harmonics with some of the finest musicians and composers across many genres of music.
These include with Peter Sculthorpe, George Dreyfus, The Nicholas Ensemble, The Royal Melbourne Philharmonic Choir, Slava Grigoryan, Anne Norman, Jenny Thomas, Mark Clement Pollard, David Jones and Aajinta. He is also formerly a member of music ensembles: Aajinta, Soteria Bell, Mantramancy and the Eternal Choir.
He has created music for soundtracks including multi-award winning 'Salt', 'A Little Bit Mongolian' and 'Meta-3,1/Km²' – a documentary about Iceland.
His throat singing has also been featured on television including for Channel 9's SUNDAY, ABC STATEWIDE, Guinness World Records Italy, and is regularly appears on radio.
In 2005 he acquired the world record for singing the longest continuous vocal note on "Enough Rope with Andrew Denton".
Aussie singer smashes world record
Melbourne's Dean Frenkel has smashed the world record for singing a continuous note, almost doubling the previous record time. Dean not only held his note for 56.92 seconds but he also sang two notes at the same time, playing out harmonic melodies with the higher voice. The previous record for holding one continuous note at a constant volume without wavering in pitch, set by Irishman David McFetridge, was 29.03 seconds. Dean Frenkel describes himself as a "left-field person", used the ancient technique of throat singing to break the record on the ABC show Enough Rope broadcast on Australia's ABC TV on 28 March 2005.
Mr Frenkel began teaching himself harmonic singing in the early nineties. He creates a base note in his throat and then shapes his mouth to play melodies with high-pitched harmonic notes. "It is something like having a mosquito in your throat - it is literally a buzz," he said. "What you have got to do is turn that buzz into a piccolo-like sound."
Mr Frenkel has researched the ancient art of throat singing practiced around the world from Mongolia to Canada, Congo Sardinia and beyond and is passionate about the history and folklore that surrounds the singing.
He says: "My passion for vocal harmonics began on the banks of the Goulburn River on new year's dawn, 1993 when I heard a peaceful chap Randall project his high harmonics across the river to my utter disbelief and fascination. To me it was wondrous a human being could make such angelic sounds. I later discovered that any person can make these sounds and rapidly learn the basics. I approached Randall, attempted to mimic his sounds and found a very slight harmonic in accompaniment to my voice. One minute I didn't know it was possible and the next moment I could sing two notes at the one time. I was utterly delighted! Then fortuitously my car radio broke down. At the time I was taking many long driving trips, and rather than repair it, I devoted my considerable time on the road exploring harmonic sounds and developing my harmonic vocal techniques. The objective was to make my harmonic voice more prominent than my drone voice and hopefully eliminate it to leave the harmonic voice standing out on its own. Eventually I succeeded by hiding my fundamental voice behind the drone of the car and I learnt to listen to the harmonics on their own. Working with sound at every opportunity I jammed with the fantastic Peter Gleeson and met my eventual wife, Linda Laasi, at an audition with a vocal harmonics group. This represents the beginning of a stunning series of journeys which continue to this day."
Dean Frenkel's book the 8th Natural Wonder: This is available from Move Records for $25 plus postage and handling. Email us to place your order or make enquiries regarding this book.
PERFORMANCE HIGHLIGHTS: Womadelaide Festival 97, Darwin Festival, Soloist with the Royal Melbourne Philharmonic Choir at St Patrick's Cathedral, Soloist with Nicholas Chamber Orchestra, Performer with the Patma Family Symphony Orchestra (Nehama Patkin and Pat Miller) ANATS National Conference, the International Voice Symposium, 'Physics of the Didgeridoo' (1998-2007) and Creative Innovations 2010, 'Music for Art' at Gallery at the Wentworth NSW, Music After Dark - The National Art Gallery, 'Polyphony at Montsalvat'.
Dean Frenkel is featured on the following titles
Compositions by Dean Frenkel also appear on

A retrospective compilation of some of the highlights of the music of the late Peter Sculthorpe. Many favourites are included.
Performer
Arranger