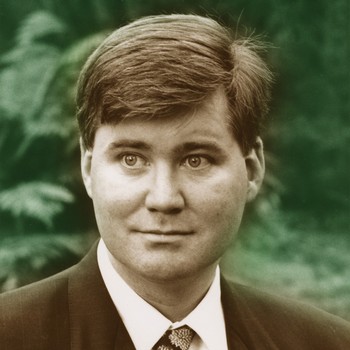 Geoffrey Tozer
Geoffrey Tozer was an artist of the first rank, a consummate musician, a concert pianist and recitalist with few peers, possessing perfect pitch, a boundless musical memory, the ability to improvise, to transpose instantly into any key or to create on the piano a richly textured reduction of an orchestral score at sight.
He was a superb accompanist and a generous collaborator in chamber music. He was also a composer. After Tozer's untimely death on 21 August 2009, journalist James Campbell described him in the media as 'Australia's greatest and most recorded pianist'.
Tozer was born in India on 5 November 1954. His prodigious abilities were recognized early in his childhood and during a professional career that lasted for nearly fifty years he developed into a mature artist, fully realizing his abilities and earning renown around the world with recitals and concerts on five continents. He made his first recording in 1963 and, as an exclusive artist of Chandos during his adult career, produced 34 recordings of distinction, six commercial recordings for several Australian record companies and hundreds of other recordings mainly for the Australian Broadcasting Corporation, including complete concertos of Bach, Beethoven, Mozart and Medtner on film. Tozer won numerous awards during his career including the Winston Churchill Fellowship (twice, Australia), the Australian Creative Artists Fellowship (twice, Australia), the Rubinstein Medal (twice, Israel), the Alex de Vries Prize (Belgium), the Royal Overseas League (United Kingdom), the Diapason d'Or (France), the Liszt Centenary Medallion (Hungary) and a Grammy Nomination for Best Classical Performance (USA), becoming the only Australian pianist to achieve such distinction.
By 5 November 1994, when Tozer celebrated his fortieth birthday in Melbourne he had scaled the peaks of the repertoire, reaching the pinnacle many times and was riding a huge wave of success, unprecedented for an Australian pianist. Recent highlights had included the Australian premiere of the Medtner Piano Concerto No 1 in C Minor Opus 33 with the Canberra Symphony Orchestra (1992), the Medtner Piano Concerto No 2 in Finland, a performance conducted by Leif Segerstrom and broadcast in Europe (1993), Tozer's first tour of China at the invitation of the Ministry of Culture, with recitals in Beijing, Shanghai, Nanjing and other cities (1993) and his performances of the complete sonatas of Beethoven at the Melbourne International Festival (1994). The wave of success continued internationally until 2004, but came to a premature end in Australia at the Sydney Opera House on April 12, 1996. That night Tozer gave one of the most astounding performances of his career when, in the first half of the concert program, he played Mozart's Piano Concerto in D Major K 175 and followed this minutes later with Prokofiev's Piano Concerto No 3 in C Opus 26. Few pianists in the world would dare to undertake such a feat, but Tozer gave superlative accounts of both concertos and they were broadcast on ABC radio on 19 April 1996.
In Auckland, on 9 September 1996, Tozer when performed Mozart's Piano Concerto No 27 he was at the height of his powers. The following day he received a glowing review in the New Zealand Herald from music critic Heath Lees before returning to Australia to prepare for a concert tour. From 1997 for the next seven years, Tozer's schedule of international engagements was busier than ever and he scaled new heights of musical achievement, giving some of the finest performances of his career. These included Tozer's London premiere performance and recording of the Roberto Gerhard Piano Concerto (Gramophone Critics Record of the Year, 1997),  his Berlin Festival performances of the Schabel Sonata and other Schnabel compositions, his performances in China, also broadcast live on Chinese national television, of the Yellow River Concerto (2001 and 2002) and his superlative account of the Medtner Vocalises with soprano Susan Gritton, released by Chandos in 2004.
Tozer's private funeral was held in the Windsor Convent Chapel which was filled to capacity with close friends and relatives. Four weeks later, in accordance with Tozer's wishes, his Memorial Service was held at St Patrick's Cathedral in Melbourne. During the service the former Prime Minister of Australia Paul Keating who, since 1989 had been Tozer's greatest and most important patron, galvanized the congregation of more than four hundred people with his lengthy, impassioned and confronting eulogy, lamenting the loss of such an irreplaceable artist.
© 2014 Peter Wyllie Johnston
Geoffrey Tozer is featured on the following titles
Compositions by Geoffrey Tozer also appear on

The remarkable compositions of Geoffrey Tozer were almost entirely unknown and unpublished at the time of his death in 2009. This premiere recording features nine works for piano composed during the years 1972-1988, performed by Lachlan Redd.
Composer

Geoffrey Tozer's 'Pieces from Childhood' allow us to glimpse, if only briefly, the adventures of the young genius into the world of classical music. Tozer's music, and emotions he expresses – sometimes tumultuous, sometimes meditative – are ever the embodiment of a growing young artist.
Composer