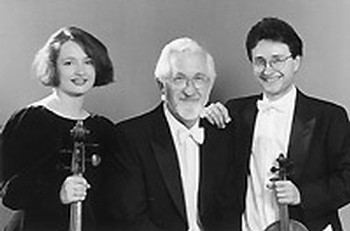 Trio Melbourne
Trio Melbourne is an ensemble comprising three outstanding artists - Roger Heagney (piano), Isin Cakmakcioglu (violin) and Rachel Atkinson (cello). It was established in 1993, and since then has performed to great critical acclaim in Australia and Europe.
The trio is committed to performing new works and is keen to expand the piano repertoire.
Trio Melbourne is featured on the following titles

This CD by highly acclaimed Trio Melbourne features a stunning collection of 20th Century piano trios, including two never-before recorded pieces by Australian composers Sculthorpe and Yu.
Trio Melbourne also appears on

A retrospective compilation of some of the highlights of the music of the late Peter Sculthorpe. Many favourites are included.
Performer
Members of Trio Melbourne

Heagney has gained an international reputation as pianist and harpsichordist. He lectures at the Australian Catholic University and performs regularly with The Academy of Melbourne and Pro Arte Orchestras and at the Melbourne International Festival of Organ and Harpsichord.

Violinist, Isin Cakmakcioglu has had an enviable international career since he completed a Bachelor of Music Degree. He studied at the Royal Academy of Music in London and has toured extensively throughout the world. He currently performs with the Melbourne Symphony Orchestra.

Cellist Rachel Atkinson currently performs with the Melbourne Symphony Orchestra. She has toured extensively both as an orchestra member and a soloist. She is cellist of the Fidelio Quartet.