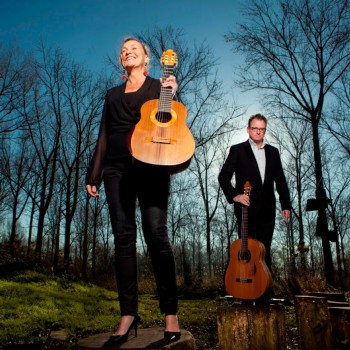 Z.O.O. Duo
Z.O.O. Duo, an original, classical guitar duo, features talented guitarists Peter Constant and Marion Schaap, directors of guitar at the Victorian College of the Arts.
Z.O.O. Duo's programme includes duos and solos, often featuring original transcriptions and new compositions as well as more traditional repertoire. They have performed in the USA, Europe as well as Australia and have appeared frequently on national radio and television.
Z.O.O. Duo is featured on the following titles

Inspired by the Gamelan and Japanese Shinto music, the recent ambient work of Mark Clement Pollard is unique in its pursuit of beauty and simplicity. A Handful of Rain is the first comprehensive collection of this acclaimed Australian composer's popular style.
Performer: Guitars

Peter Constant and Marion Schaap. Following on from their recently released and highly acclaimed CDs, "A Sympathetic Resonance" and "Light on the Edge", the brilliant Z.O.O. Duo have recorded a delightful selection of guitar duos by well known classical composers.

The debut recording of piece for two guitars by Australian composer Mark Pollard, recorded by Z.O.O. Duo - Peter Constant and Marion Schaap.
Members of Z.O.O. Duo

Peter is one of the new breed of fine young guitarists this country has produced in recent years, with a solo performing career extending to Italy, America and Holland as well as to capital cities and regional centres of this country.

Soundboard magazine described her playing as "truly exciting, very moving and sincere... displaying a great dynamic range with no fear of taking risks".